Winning together: An Olympic-winning approach to building better teams
by Contributor October 27, 2021 8:46 am0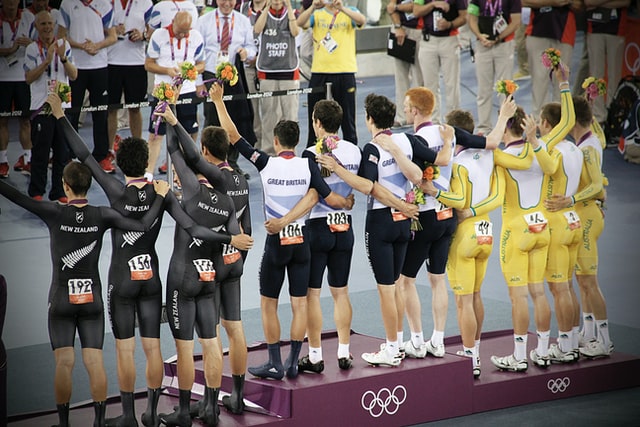 This is the inside story of what it takes to build high performing teams. In Winning Together, Helen and Kate Richardson-Walsh share powerful lessons from the Great Britain women's hockey team journey to gold in Rio 2016. They show how to create a winning culture in any environment, in any industry, so that you and your teammates can thrive.
Chapter Summaries:

Introduction – This Is What Makes Us
In this chapter we aim to provide a deeper insight into the people we were, where we came from, and what exactly it was about our lived experience realities that helped us achieve our goals. The vast majority of this book focuses on the period between 2009 and 2016, but here in this introduction we want to spend a bit of time introducing you to our younger selves, to our early lives as international sportswomen. After all, our experiences back then really shaped who we are as people today. We also want you to begin to connect with us as people – making connections is at the core of this book and at the core of being a team.

Chapter 1 – Vision
A vision is what gives you that ultimate destination, whether that be tangible or metaphorical. Most importantly it provides clarity of direction, and if done well can create meaning, enhance motivation and provide a sense of belonging. We didn't always know how important the vision was to our team success. In fact, we first had to have it and then lose it to fully appreciate the significance. This eventually led us to the memorable and meaningful team vision for the Rio Olympic Games of: Be the Difference, Create History, Inspire the Future. But how did we get to that point and how can what we learnt help you build the best vision for your team? We think this is applicable to any and all team environments you find yourself in; be that at your place of work, your netball team or your
family unit.

Chapter 2 – Values
For many of us, team values have become so ubiquitous they have almost lost meaning. In many cases we have become numb to the power of our team values. And yet we are increasingly basing many of our life decisions around values. It is imperative then that our values don't live on company documents or plastered on giant posters or office screens. The power of collective authentic values is something we believe is a non-negotiable for any group or organisation today. From our experience we were at our best when our team values lived and breathed in every member of the team. When our collective words became our collective actions, we brought values off the page and
into real life. In this chapter we will discuss our experience of team values, what worked and what didn't work for us and why.

Chapter 3 – Behaviours
We believe that we were our most successful, as a team and as individuals, when we had been encouraged to examine our collective behaviours. In this chapter we will demonstrate how agreed team behaviours were critical to our team success and were in fact our 'winning difference'. We will detail the importance of in-depth honest conversations and what those conversations ultimately enabled us to do as a team. In doing so we hope to press home to you that with this key level of joined up thinking your team can shift from good to great and reach your ultimate goal with
authenticity and togetherness.

Chapter 4 – Processes
Processes played an important role in supporting our organisational culture, helping lift behaviours off the pages of our notebooks. They also provided various platforms for behaviours to be demonstrated and shown by everyone, which ultimately helped the team succeed in the vision. In a nutshell, processes will help your team get stuff done! In this chapter we demonstrate that processes aren't always boring steps that need to be completed in order to get something done, they can be complicated, nuanced and create enthusiasm and motivation in all teams.

Chapter 5 – Leadership
Leadership is a never ending quest, a constant search for better. At our most successful, every member of our team was considered a leader and we were, at the same time, all being led from above the team and from within the team. We will look in detail at how this delicate leadership balancing act was conceptualised and navigated. In this chapter we will be candid in sharing our experiences of leadership. We will look at how great teams are led, how leadership has evolved and how it can be developed in people and teams. In detailing our learnings from both leading and being
led, we will highlight some key themes and concepts that we believe are critical to help you thrive as a leader.

Chapter 6 – Vulnerability
Many people commented that we 'really looked like a team' after our final performance in Rio. We believe this was largely down to the things they could not see, our many moments of vulnerability that we shared, owned, and grew connections from. Vulnerability is not a comfortable place for most people. This was hard work. None of us found this easy and we continue to wrangle with it on a daily basis. But this is where the magic lives. This chapter, more than any other, will take you from good to great. You can have an inspiring vision, values and even behaviours, but unless you are prepared to do this work as individuals and a team from a place of vulnerability, you will never fully
realise your collective potential.

Chapter 7 – Awareness
Whilst a focus on culture, vulnerability and leadership are all vital to any individual or team wanting to function to a high level, none of that can be addressed without awareness. In this chapter we will take you through the exercises that we used as athletes to deepen the connection with ourselves and with one another. This is inextricably linked to vulnerability and this is honest, brave and courageous work. You will find things that you absolutely love about yourself, perhaps along with things that you do not. All of that is great, because the very fact that you can see anything at all means that you exist, you are aware and now you can really begin to thrive.

Chapter 8 – Challenge & Conflict
What images or thoughts are conjured up when you see the words conflict and challenge? How we have been raised to view disagreement and direct feedback really shape how perturbed we are. Through our experiences in a sporting environment of using challenge to improve individual and team performance we hope to demonstrate how, if embraced by all, it can be a positive tool for change. In this chapter we hope to demonstrate that only when we embrace conflict and diversity of thought, experience and opinion can we ever truly build teams and environments where everyone belongs. And crucially, moments of friction when harnessed and worked through can be catalysts for
magical metamorphosis.

Chapter 9 – Being Well
As the saying goes, 'you can't pour from an empty cup', we must all do what we can to care for ourselves. Our mind, body and soul are connected and we must find space to attend to them all. We have both experienced difficulties with our mental health and have, at times, treated our well-being with flagrant disregard. In this chapter we will share our experiences; what we've learned, what helped, what hindered, what is key for us individually and what hopefully might help you.

Chapter 10 – Embracing Difference
The strength of our team was the entire squad of people. Not just the 16 you saw standing on the top of the podium with gold medals around our necks, but the whole team of 31 players and the 10 members of our management team. There was a sense of togetherness, solidarity and pride that elevated us to levels far beyond what others thought were possible. The opportunity for a sport like hockey and many organisations like it, is the vast untapped potential of currently marginalised people. If we were able to build the culture that we did with very little diverse thought, life
experience and background, just imagine what could be accomplished when we work assiduously to create open, transparent and equitable opportunity for everyone.

Final Thoughts
At the beginning of this book we opened with us winning an Olympic gold medal with our teammates in Rio 2016. We hope that now you've read through this book and hopefully worked through some of our questions and Team Huddles that you can also see lots of other perhaps more significant wins that we experienced on our journey. These wins are there for you, they are there for all of us and we hope we have inspired you to go after them for yourself and your teammates.
View the previous article here: Winning together: An Olympic-winning approach to building better teams
---
About Kate Richardson-Walsh: Kate, the most capped female British player with 375 appearances and double Olympic medallist, captained the side for thirteen years in a career spanning 18 years, from 1999-2016. Representing Great Britain in 4 Olympic Games, Kate won bronze at London 2012, having suffered a fractured jaw early in the Games. She finally stood at the top of the podium with her teammates in Rio 2016. Over the course of her 18-year career, Kate amassed 20 medals, alongside her Olympic medals, these included: World Cup bronze, European gold and Commonwealth silver. Kate's perspective on what it takes to lead has been shaped and developed under different coaches, within various leadership groups and by all of the vastly different players and personalities she's interacted with over the years. An open mind, a hunger to always be better and a constant drive for improvement meant this became a massive part of the obsession. Mistakes and failures were plentiful; they became the fuel that stoked the fire of ambition. Experiencing the rollercoaster of international team sport for 18 years provided her with so much exceptional knowledge of team culture, leadership and people.
Since Rio, Kate has used her insight and expertise to help teams and individuals thrive in both sport and business settings. She currently works across different industries as a leadership and team effectiveness coach, including Virgin Media. She also coaches Hampstead & Westminster HC women's first team. Kate is an ambassador for Access Sport and Women's Sport Trust and has served on a number of Athlete Commissions including the British Olympic Association, Federation of International Hockey and European Olympic Committee. 
In Rio, Kate, alongside her wife Helen, also entered Olympic history as the first same sex married couple to win an Olympic medal playing for the same team. Today they deliver their learning in companies and schools and are hugely respected for their humble approach and appetite to help others achieve their potential. Passionate about sharing their stories and breaking down negative taboos and barriers, they continue to work with charities, which support like-minded people. Helen and Kate currently serve as ambassadors for the charity Access Sport, they proactively support disability hockey and powerfully share their experiences of mental health and being LGBTQ+ as passionate activists and supporters of equality and justice for all people. Helen and Kate are proud Mums to their daughter, Pfeiffer. In 2021 they completed their first book – Winning Together. The book harnesses all of their knowledge and experience from international sport and the business world to help people build better teams and get the best from themselves.