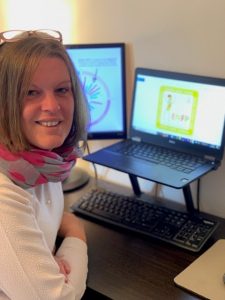 Regional Chair – Lidija Jones, Learning and Development Business Partner, University for the Creative Arts
I work at the University for the Creative Arts (UCA) as a Learning & Development Business Partner. With over 15 years' experience of working in L&D field within the public sector, I started my career with Surrey Police and then moved to NHS before joining HE in 2011.
My experience is developing individuals, team and organisation; focusing on leadership, organisational change, culture and high performing teams. I am a Liberating Leadership Practitioner as well as being qualified in both Strengthscope and MBTI. I also qualified as a Mental Health First Aid Instructor in 2019 and now deliver both Adult and Youth courses.
I strongly believe that work should be fun and full of laughter. I love working with the organisation, teams and individuals to create space, opportunities and curiosity in their development journey. I thrive on building relationship within the whole organisation for business success. I wholeheartedly believe that organisational success is dependent on its people and that with the right development, coaching and support everyone can succeed, perform at their best and most importantly have fun.
I have been part of the SDF network for the last 16 years and have found that the supportive and collaborative environment of like-minded people who were experiencing similar challenges within Staff Development in HE has made a great difference to me in my role. I became SDF South East regional chair in November 2018, and my ambition is to develop our regional network into a group where we meet regularly, share, network and develop together for the benefit of all.
Outside work I am a mum to two boys, who keep my feet firmly on the ground and are a great reminder of my priorities. I have a great love of outdoors, but my true happy place is in Croatia on a beach with my family.
Contact the South East Developers Forum
Contact the SDF South East group members
Member Institutions include:
Bournemouth University
University of Brighton
Bucks New University
Canterbury Christ Church University
University for the Creative Arts
University of Chichester
University of Portsmouth
University of Southampton
University of Surrey
University of Sussex
University of Winchester
Southampton Solent
University of Reading
University of Kent