My SDF story with Dan Newberry
Where do you work and what is your role?
I work at the University of Sheffield, as an HR Adviser in the Organisation Development team. My main area of focus is on leadership, management and staff development, although recently I have been working on major change initiatives.
When did you join the SDF?
I joined the SDF when I started in my role as an HR Adviser in Staff Development in 2011. Before then, I worked in the Reward & Benefits team, managing the annual promotions process.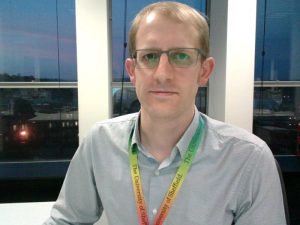 Why did you want to join the SDF?
The reason I joined is also the best thing about the SDF, it's a chance to be part of a fantastic network of committed, knowledgeable and supportive professionals.
What are you working on at the moment?
I am currently mainly working on an ambitious University wide programme of improvement, the Student Lifecycle Project, that will make our services to students more efficient to use and deliver, by updating our processes and systems across the University. I am contributing to the People & Change Workstream, so my work is currently primarily focused on developing plans for change, and will be moving into implementing these changes into the University!
What does a typical day look like?
Most of my days are spent either at my desk or in meetings. Whilst this may sound like drudgery, I'm really lucky to work in a fantastic office, with fantastic colleagues, and we work on a diverse range of topics so it's hard to get bored! Across the Organisation Development team, we work on Leadership, Management and Staff Development, Equality, Diversity and Inclusion, and Engagement and Wellbeing, so a real range of topics. We are encouraged to work outside our area of specialism, so I have been contributing to a project on supporting mental health within the University, initially from a training perspective.
The person who has influenced you the most is
It's really hard to pick out only one person who has influenced me, so I won't! Working in a university, I come into contact with such a variety of interesting people that it's really easy to pick up things to improve how I work and live. It's always great to watch academics teaching, to be inspired by how the convey their topic to students. Or to work with professional services teams, and see the passion they have for supporting our students.
Work life balance – what leisure activity you enjoy the most?
I've recently started running, and in an early mid-life crisis I'm planning to run a marathon by the time I'm 40. I've got four years, so that should be manageable?! I try to run three times a week before the kids wake up, and also to run to work a couple of times as well. I normally cycle to work, so I am still doing something. I must stress that it's not some big macho activity, just trying to challenge myself a little bit
Something about you people would find surprising
It won't be a surprise to colleagues that I listen to music at work, given that I have my headphones on a lot, but it may be surprising that I have different music for different work:
My subscription to Google Play Music is a necessary expense (personal not work)!
What's your greatest fear?
Dying alone. But as that feels too "real", let's go for heights. Particularly when there is a railing to look over, and you can hear "L'appel du vide"! Visited my parents in Norway and climbed Preikestolen (Pulpit Rock). Horrifying if you look down, but beautiful if you don't (I didn't)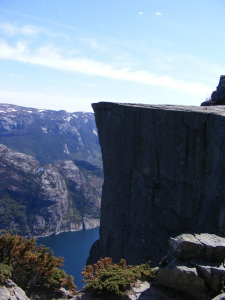 And birds. Can't stand them.
Who would you invite to your dream dinner party?
Is it a cop out to say close friends and family? It would be great to get back together with friends from school and University, but we're so spread out across the world, it won't be easy. So that would be a dream.
What would your super-power be? 
I asked my six year old daughter this, and her answer was "kittens". This would enable her to fire lions, tigers, cheetahs, etc. at baddies, but also to fire kittens onto her lap should the mood take her.
I would be able to stop time, but still move around in the world. I'm worried that says something unappealing about me!
I'll leave it to readers to decide which is best.
What's your favourite/least favourite food?
I do enjoy a burger. Along with some colleagues, we have formed a burger club and have given ourselves the mission of finding the best burger in Sheffield. If you're ever in the city, then I strongly recommend The Harley which is currently in the lead.
The worst? Tuna. There is no excuse for it.
What's coming next for you?
Well the Student Lifecycle Project has got another two years to run, so that should keep me busy!