My SDF story – Clare Ennis  
Where do you work and what is your role?
My role is Head of Organisational Development and Equality at The University of The West of Scotland.  We have 5 campuses, Paisley, Ayr, Hamilton, Dumfries and a new campus in London.  I am based mainly in Paisley and Hamilton, though I cover all ar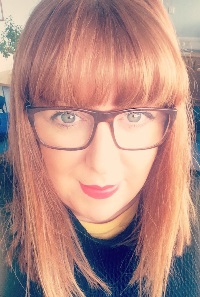 eas with my team.
When did you join the SDF?
I joined the SDF community when I started at University of the West of Scotland – May 2014
Why did you want to join the SDF?
One of the first things we discussed as part of my induction was the valuable resources and networks I needed to know about, I remember asking my manager a question and he suggested I ask the SDF community, and he introduced me to SDF.
What's the best thing about the SDF?
This is my first time working in the HE sector, and for me the best thing is the community and support and knowledge that it offers.  We have a fantastic network in Scotland, we meet twice a year and use the first half of the meeting for our own development and/or for invited speakers who are able to inspire us and widen our knowledge on topics that are relevant to our work.   Outwith the meetings, we are in frequent contact via email or phone, sharing ideas and best practice.  I remember when I first started in HE, I could not believe how much people were willing to share knowledge, ideas, content and contacts, something that does not exist in the private sector.  This really makes you feel a real part of a community.  It is amazing that people who you have never met, are willing to take time out their busy days to share golden nuggets of info, which may help you move on a project, solve a problem, create something amazing, it really makes me smile.  Recently, I needed to source a training course for an employee who works on our campus in London, and I asked the SDF community to help , within a day I had about 20 emails offering support and ideas which is fantastic – thank you to those who offered advice.
What are you working on at the moment?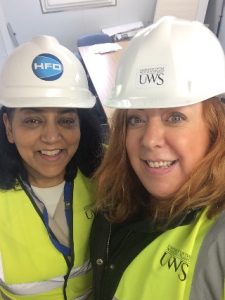 My role is very varied, and involves me in many areas across our university.  One of the 'big ticket' items for me at the moment is preparing our staff for a move to a brand new campus.  I am leading a few workstreams around 'people' and we are looking at holding a learning festival to introduce our staff to open learning spaces and open plan working which is a new concept for them.  We are also creating a welcome booklet, developing some eLearning to prepare them, and hosting other events to help staff with the 'letting go' process by marking the history of a campus, as  some of our staff have worked on that particular campus for 25 years.  Examples include creating a digital timeline to capture the history of our campus which is closing and a time capsule competition in conjunction with the local community. We have asked for suggestions on what should be buried in our time capsule at the new campus.  Myself and Naira from my team have also been on site visits to the new campus to ensure our designs are reflective of being an inclusive campus for all.
What does a typical day look like?
It's a bit like a box of chocolates, and that's the wonderful thing about my role.  I tend to have 2 or 3 days full of meetings, and then 2 days to focus in on the projects we are working on and bringing them to life.  I base myself at 2 of our 5 campuses and visit the other 3 when I can.  My team and I use technology with jabber for instant messaging and WebEx for fortnightly meetings when we are on other campuses, to keep in touch.  My day can be anything from working with one of our executive members on a project, leading a steering group via video conferencing with 5 campuses focussing on themes from our employee engagement survey, offering support to our Athena Swan submissions, working 1-2-1 with senior leaders on 360 feedback coaching sessions, facilitating  workshops, attending  one of our many equality and diversity events, offering advice and support to our senior leadership team or designing learning solutions for regular requests for support.  Sometimes all of the above can be packed into one day. Phew!
Tell us about an event that altered the course of your life/and career
My background is managing retail stores and teams for many years, and even though I enjoyed the buzz of beating targets and sales, nothing beats the feeling you get seeing a team or an individual flourish when they fulfil their potential.  I have worked with more teams and managers than I can count over the years, coaching, mentoring, developing, supporting them to reach their potential.  It was a natural step to move away from sales and business and focus on a learning and development role that focussed on people.
The person who has influenced you the most is:
Oh that's a tough one; I am influenced by so many, I have go-to people for different things.  If I need to create something that is out-of-the box thinking and a bit different I go to my Director Carolyn to bounce some ideas around.  When I need to get another perspective on something tricky, Caroline from my team is my go-to person for clarity.  If it's about myself, I have an old coach who is like an old friend, and asks me the questions I am sometimes too scared to ask myself, when things get too serious, my best friends Susan, Laura and Nicky soon ground me and provide lots of laughter.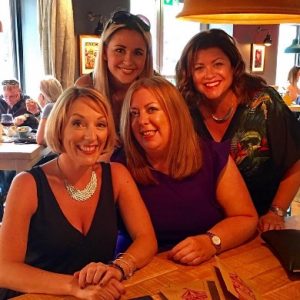 I have a wonderful family who are all fantastic and provide constant support, and when I need an inspirational quote the amazing Maya Angelou does it every time.  So, I guess I don't rely on one influencer, the combination of all these people influence me to do the best I can and have fun along the way.  I am very active on twitter and LinkedIn and frequently share great articles I come across; I am a big fan of micro-learning.  One of the best influencers I follow is Dr Travis Bradberry.
Work life balance – what leisure activity you enjoy the most?
Walking, although the recent snow in Scotland and winter weather and dark nights has made it an easy excuse not to do this.  I think a walk after work every day is a great way to build in reflection, get fresh air and really process the day in time to switch off before I arrive home.
Something about you people would find surprising
I ran with the Olympic Torch in the Olympic Torch relay in 2012.  I was lucky enough to work for Adidas, and have a wonderful leaving present from Jessica Ennis, whom I have been lucky enough to meet. I was the first person with Ennis as a surname she has ever met in her life outside her immediate family!!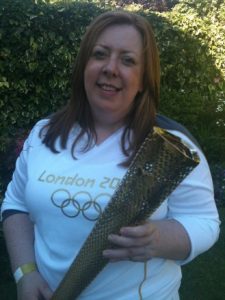 Who would you invite to your dream dinner party?
Kevin Bridges for the laughs, Oprah Winfrey for great conversation, Nigella to cook us up a storm, The Courteeners/Biffy  Clyro/Stevie Wonder (I'm not fussy) to provide some tunes, and my best friends to share it all with, because of distance I don't get to see them as often as I would like.
What would your super-power be? 
To fly, then I could visit my friends who are scattered across many countries whenever I wanted.
What's your favourite/least favourite food?
Filet Mignon – medium with fries.  Simple and delicious.
What's the worst job you ever had?
I've never had a job that was bad.  I would say when living in Australia I had a job as a waitress and I was the worst, I remember spilling hot chocolate over a child! From that point on the boss would only allow me to carry one thing at a time J . I was great at talking with customers though!
What am I most proud of?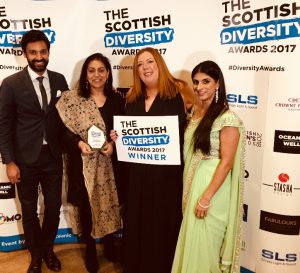 That's easy, my team – they are amazing! Rhona is our co-ordinator and supports us all and keeps us all organised and helping us with everything to do with technology.  Caroline and I worked on a massive project which we received a commendation for from the SDF in 2016 at the annual award ceremony – we had organised a Daring to Be Different learning festival.  Working with Caroline is always fun.  Then the remainder of my team is Naira, part of the great work we have had recognition for is our UWS Inspiring Women Series, we recently received a Commendation at the Scottish Women in Technology Awards (SWIT) 2017 for our programme.  More recently, our University won University of The Year at the Scottish Diversity Awards which is testament to the great work Naira is doing across our university.
Where is your favourite place?
The Isle of Harris – everyone should visit at least once in their life – special spiritual place.
What is your favourite quote?
Life is not measured by the number of breaths we take, but by the moments that take our breath away.
What's coming next for you?
This week will see our university celebrate LGBT history month and see the official launch of our LGBT+ staff equality groups.  UWS are hosting a photography exhibition 'Queer Champions' –  a landmark collaborative exhibition project by Ajamu, the Equality Network, Outspoken Arts Scotland, Street level and Equality Network.
I have connected with 2 great women from Edinburgh who are doing great things supporting women and the challenges they face, they have a company called 'Somebody Inside'. I am attending a development day they are hosting next weekend.
March is a key month for presenting our operational plan to our Executive Group hoping I get the budget and approval I need to do great things with my team in 2018/2019.  In March I am involved in the LFHE Aurora programme as a Role Model, always a fantastic day.
I am headed to the OD Europe Conference in April ODN Europe annual Conference 2018 .  April will also see our Learning Festival one of the key events for preparing our staff for our new university campus in Lanarkshire. May is our annual award winning 'Inspiring Women Conference' that is a fantastic inspiring day for men and women, with 3 inspiring women as our keynotes and development workshops in between.  At the end of May I'm having a holiday…..
June is finalising everything to ensure we are ready for our move to the new campus, in July we move to our new campus, and to settle everyone in I and the wider project team will run orientations for staff for the first 3 weeks.
In August and September I will be preparing plans for our Employee Engagement Survey which launches in October, with November and December preparing for dissemination of workshops to deliver results.
Twitter: @clareennis
LinkedIn: www.linkedin.com/in/clareennis