My SDF Story with Chris Pickard
by SDF Comms September 24, 2021 10:30 am0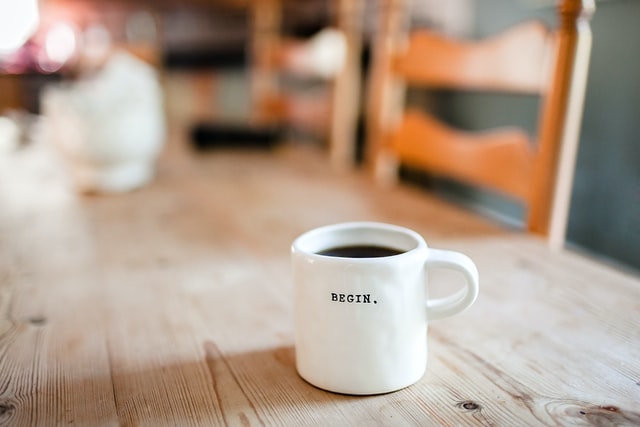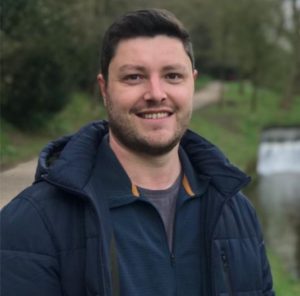 Where do you work and what is your role?
I work at Leeds Beckett University as an Organisational Development Adviser in the People and OD Team.
When did you join the SDF?
I joined the SDF when I started in my role as People Development Co-ordinator around 7 years ago. Part of my induction was to request to join the SDF Jisc mail and contact the regional contact to introduce myself. Before then, I worked in the HR Systems team at Leeds Beckett.
What's the best thing about the SDF?
The supportive and knowledgeable network of colleagues. Whether it's at our regional meetings, national conferences/festivals or emails between the SDF community, it's brilliant how willing everyone is to share their experiences and ideas to help support others with a query/project. It is such a valuable source of support and pool of knowledge.
What are you working on at the moment?
It's great that my role is varied and involves working on a number of projects.  Our online training system contract is due for renewal fairly soon so I'm doing lots of research and preparing for the tender process. Alongside this we are also currently working on various new modules, plus updates to a number of existing compliance courses, so I'm working with colleagues across HR and the University to arrange this.  I'm also currently working closely with one of our service areas to organise and commission a development programme for colleagues to run throughout the academic year, covering a range of key sessions and topics.  Whilst delivery isn't a main part of my role, I am involved in facilitating our induction session, sessions to support our Performance and Development Review cycle and a career session over the next month or so.
As co-chair of the SDF's North East & Yorkshire Staff Development Partnership, I'm also preparing for the next regional meeting, due to take place virtually in October, and the regions next cohort on the Regional Cross Institutional Action Learning for Women programme.  As a team we are preparing for the launch of our development offer for 2021/22, including a range of topical webinar sessions and masterclasses. We are also continuing to research and develop resources and support for new ways of working.
Tell us about an event that altered the course of your career
I would say getting on the Graduate Trainee Scheme at Leeds Beckett was a key moment for me. Following my degree (in Sports Science!) I still didn't really have a career path and ended up doing a couple of random and uninspiring roles away from the University for a short while. Fortunately, I then found out more about the scheme at Leeds Beckett, which gave me the opportunity to try placements in different areas of the University initially, before then settling in HR.
The person who has influenced you the most is…
I could easily write a long list of people here! But anyone who has worked with Kathy Ashton will know how fantastic and inspirational she is, so I was really fortunate to work with Kathy for a number of years and learn so much from her.  A special shout out to our current People and OD team, which is amazing, with a great mix of personalities and preferences – thankfully we utilise this to work really well together, complementing each other and all valuing, supporting and inspiring each other every day.
What's the worst job you ever had?
As a temp somewhere many years ago I lasted half a day – by lunch I'd had no real information about what I was meant to be doing and the person I was sharing a tiny office with didn't speak to me and had very strong-smelling fish for lunch! I couldn't get out of there quick enough.
Work life balance – what leisure activity do you enjoy?
Working from home since the start of the pandemic has actually helped me get into the habit of going for a decent walk every day/trying to get my 10,000 steps in. At weekends, we always try to explore somewhere interesting… we even got National Trust passes last Christmas! We have also just got a puppy so it will be even more reason to get out there and go on nice walks to switch off.  I also watch A LOT of sport – football, cricket … you name it, I watch it! I'm still missing the Olympic and Paralympic highlights every night!
Something about you people would find surprising
I'd love to be able to put something interesting and exciting here but I'm just going to go with the fact I've never drunk a cup of tea or coffee in my life. Much to the ongoing dismay of the team and my wife's family! I just don't do hot drinks I'm afraid.
What's your greatest fear?
I don't think I'd do well on I'm a Celebrity to be fair but I'm going to say….Wasps! I got stung when I was a baby and one got into my pram and apparently that has really stuck with me.
What would your super-power be? 
Being able to click my fingers and just be somewhere instantly, which I suppose would be classed as time travel?! I'm sure I would find many more exciting ways to make the most of this power but I've always thought I'd value it just to avoid travel between places, especially the journey home from holidays (although what I'd give for that now if it meant I'd been somewhere sunny and warm!).
Who would you invite to your dream dinner party?
I think Tom Hanks would be a great dinner party guest. Whenever I see him get interviewed, he always comes across as very funny and interesting and has some great stories to tell.. As a Manchester United fan, I'd also like to speak to (and thank!) Sir Alex Ferguson.
What's your favourite food?
I enjoy listening to the Off Menu podcast with Ed Gamble and James Acaster so I've now asked a number of people what their dream dinner menu would be.
My menu wouldn't be anything too fancy – arancini balls from Poco in Leeds, a beef roast dinner with Yorkshire puddings for main and a nice rhubarb crumble with ice cream (not custard!) for dessert.
Where is your favourite place?
Thailand. How much time have you got? Basically, it has everything and I can't recommend it enough.
Closer to home, I love the Cow and Calf Rocks in Ilkley.
What thing would improve the quality of your life?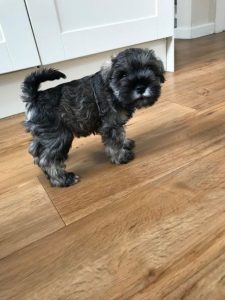 I'm hoping our new puppy, Bruno! At the minute he's not improving my amount of sleep but that won't last too long…right?
What's coming next for you?
See above for one thing…lots of puppy training and establishing a good working from home routine for us!
The online training system tender and outcome from that will run for a while and will hopefully help us to enhance our blended approach going forward.  We've got a new University strategy on the way, so there's lots of exciting work coming up to support that – work on values, performance, new leadership programmes and of course supporting new ways of working. We are also planning to run a follow up pulse survey in the Autumn.