Where do you work and what is your role?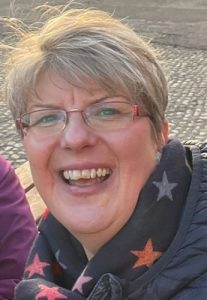 I'm currently working as OD Consultant at De Montfort University. I've been here since September and leave at the end of June. I've also worked at University of Leicester and University of Derby, and in two FE colleges; as well as roles outside Education.
I've been lucky enough to work across a broad spectrum of HR, Wellbeing, EDI and L&D/OD 'interventions' in my career. My passion is making work great! I think meaningful work should be a basic human right. It's been my privilege to be part of some other people's amazing career journeys and I am grateful to them for letting me walk alongside them for a while and to know I have made a difference.
When did you join the SDF?
When I first moved in to OD from an HR Business Partnering role whilst working at Derby in 2006. The team there were already strong advocates of SDF and introduced me. Thank you Derby!
Why did you want to join the SDF?
A former boss once told me "the most dangerous people to work with are those who don't know what they don't know, as they can lead you into a lot of trouble!" Despite a background in training and development and HR I knew I had a lot to learn going into an OD role – and still do. Being part of the SDF provides a 'safe space' to admit what I don't know and learn from others. The further I progress in my career the more valuable this is.
What's the best thing about the SDF?
People are so generous with their time and expertise. I have to give a shout out to the MSDP and Ian Whiting's sterling work as Chair. This wonderful group of people have nurtured me in my career, picked me up when I am feeling down and are a great source of knowledge, expertise, strength and inspiration. The 'combined OD/L&D brain' of that group of people is phenomenal!
What are you working on at the moment?
Well, that's an interesting one! The team here are going through a restructure so things change daily! My current 'to do' list includes a Mentoring proposal, a Leadership Development proposal, one to one coaching, supporting the Women's Network, a change toolkit "and any other duties as required"!
What does a typical day look like?
I'm a hybrid worker, and I work part-time so there's really no such thing! On a Monday morning you'll find me in a Spin cycling class, on Tuesday on a train to Leicester and Wednesday is always a mystery as it depends what my in-box looked like on Tuesday morning! Despite being an MBTI Introvert Type I am quite sociable so there will definitely be a coffee (and cake) break with a colleague/friend in there somewhere!
Tell us about an event that altered the course of your life/and career
Being made redundant for the first time aged 26. It prompted my now husband to propose, I relocated to Derby and left a career in the food industry for interim work and eventually a role in Education. It taught me to keep an open mind, not everything we perceive as negative is bad for us!
The person who has influenced you the most is
I guess that would be our son! Becoming a parent definitely took me out of my comfort zone. I became braver as a person, developed the art of reflective practice, learned I can't control everything and he was unknowingly a very good "practice coachee" when I was studying for my Coaching Qualification. Now the tables re turning and he's giving me the confidence to try new things.
Work life balance – what leisure activity you enjoy the most?
I enjoy spin cycling – simply because it allows me to eat cake guilt free (almost)! In the winter I read – a lot! Give me a good crime novel and I'm gone for hours. In summer I love walking, particularly by water. Of course, food – cooking it, eating it, sharing it features highly.
Something about you people would find surprising
Possibly that, despite a penchant for gin, I have never actually been drunk in my life. Alcohol makes me drowsy and I fall asleep before I reach that point! I guess it makes me a cheap, but rather uninteresting date!
What's your greatest fear?
With a husband and son who enjoy the dangerous sport of competitive track (velodrome) cycling you might say I face my greatest fear on a weekly basis! Personally, not being able to care for myself and becoming dependent on others. Not that I am a control freak (or maybe I am) but more that if something needs doing, I just want to get on and do it!
Who would you invite to your dream dinner party?
Nelson Mandela- for his insights into human behaviour and to discover the secret of his inner strength. Mary Berry – I originally trained as a Home Economist so I'd like to talk food with her. Our late Queen – to find out the secret of truly learning to keep one's opinions to oneself! And … my late Dad, because, not only would he enjoy meeting my choice of guests, but because I miss his wisdom, daily.
What would your super-power be?