My SDF story

Where do you work and what is your role?
I joined Keele University in June 2014 as the Professional Development Advisor, having worked at another HE Institution for 17 years as a HR/OD professional.
In 2018, my role developed further and I joined the central HR team.  I now lead the OD team for the University as the Organisational Development (OD) Manager.  I lead a core programme of development including over 100 different workshops, accredited and non-accredited programmes, conferences and events and online learning through Learning Pool. This role has enabled me to work in partnership with colleagues across campus on such projects as the Technician Commitment, Apprenticeships, AUA, Professional Services and Technical Services Networks, JISC development projects and coaching opportunities for all-staff.  During this time I have gained an invaluable insight into various needs, challenges and opportunities facing Professional Services and Technical Services at the University.
When did you join the SDF?
It was that long ago I can't actually remember.  I have been an active member of the MSDP (previously MUATC, for those that remember) for over 20 years.
What's the best thing about the SDF?
The community of practice.  The opportunities that the SDF provide for like-minded colleagues across the sector to share their skills, knowledge and experience.
What are you working on at the moment?
A Technical Services Network which we instigated through our work with the Technician Commitment. We held our first Technical Services Conference in July this year which was a huge success.  This is such a rewarding element of my role and an amazing group of staff to work with.
A Professional Services Network, which I am hoping can follow in the successful foot-steps of the Technical Services Network.
The identification and implementation of mandatory training for staff at Keele
Utilisation of the Apprenticeship levy to upskill our current workforce
Development of our online learning provision following a recent upgrade to our LMS Learning Pool
What does a typical day look like?
My role is extremely varied and no two days are the same.  A typical week will consist of training delivery mixed with coaching, meetings, staff management coordination and everything in-between.  I am very lucky to have such an interesting role supported by such a brilliant team! Team picture below: Left – Amanda Elikowski, Assistant OD Officer, Middle – Me, Right – Katie Stanley, OD Administrator at the Strategic Conversation Event focused on Health and Wellbeing.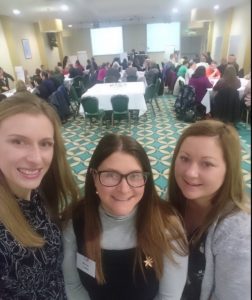 Tell us about an event that altered the course of your life/and career
As I started to progress in my career, my line manager at the time suggested I have a coach.  They felt it would support my transition to a more senior role….that was in 2004.  I have to say 'Sue' my coach was brilliant.  She provided with the space and place to review my skills and then gain confidence in relevant areas of leadership, management and learning and development.  It was this experience that sparked my interest in coaching and led to me undertaking a formal coaching qualification.  Coaching is now one of the favourite parts of my role!
The person who has influenced you the most is
My mum.  She is a kind and caring person who excelled in her career without following a traditional pathway.  She stayed at home until we (my 2 brothers and I) were all settled in school then made the most of every opportunity that came her way through voluntary and paid roles.  Her career has included senior roles within counselling, leisure and adult social care.  My mum taught me that everyone has a gift you just have to have the opportunity to show it.
I am now in a position whereby I can make a real difference and provide all-staff at Keele with the opportunities to engage with creative and meaningful development to enable them to be the best that they can be.
Work life balance – what leisure activity you enjoy the most?
I love spending time with my family.  My children are truly inspiring and teach me new things all the time…my own version of reverse mentoring!  Camping and the great outdoors are my second love and if I'm not at home I am camping in Wales or climbing a mountain.  My next adventure is Ben Nevis in September.
What would your super-power be? 
Flying, so I don't have to queue on the A50 everyday!
What's your favourite/least favourite food?
You can't beat a good burger…my favourite is Honest Burger, Kensington, followed in a close second by a restaurant at the bottom of the Rockefella Center in New York.
What's coming next for you?
I have recently been elected as the Professional Services Representative for Council at the University.  The Council is the supreme governing body of the University. It has a collective responsibility to promote the University's well-being and, in particular, for the proper management and financial solvency of the institution. Major policy decisions, as well as corporate strategy, are also subject to its approval.  I am extremely excited about taking on this new and challenging role.