My SDF story with Meriel Box
Where do you work and what is your role?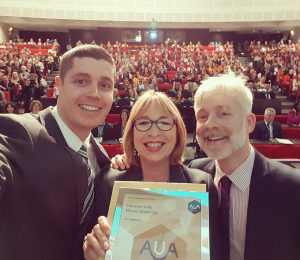 My role is Head of the Leadership and Development Foundation at Liverpool John Moores University. I oversee the provision of organisational and professional development for staff which is explicitly aligned to achieving LJMU's Strategic Plan 2017-22: Vision, Aims and Values.
I am also the SDF North West of England Regional Co-ordinator, the SDF representative on the AUA Mark of Excellence Assessment Panel and LJMU's Aurora Champion.
When did you join the SDF?
A long time ago, I joined UCOSDA in the mid 90's which morphed into HESDA, which begat the SDF!
Why did you want to join the SDF?
I wanted to be part of a community of practice; to network with like-minded colleagues across the sector, to support my own CPD; to co-create development resources and collaborate on projects.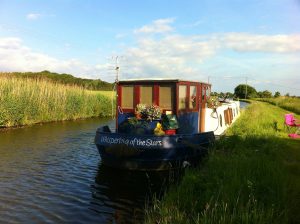 What's the best thing about the SDF?
The diverse experience of colleagues and the willingness to share expertise to support each other.
What are you working on at the moment?
Preparing for our 5th Annual Professional Services Excellence (PSE) Conference, the theme is: 'Leadership Matters'.
Redesigning the PSE staff recognition awards which align with our six core Values: Excellence, Transformation, Leadership, Partnership, Innovation and Community.
Other priorities include enhancing our portfolio of Researcher development opportunities, Academic Leadership development, Mentoring, Coaching, Supervision, Resilience and implementing Mental Health First Aid training for all line managers.
What does a typical day look like?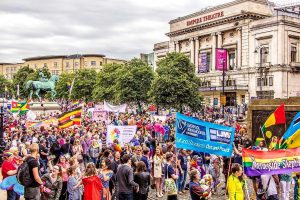 A typical day starts on a Tuesday at 7:30am – I work compressed hours. My time is focused on any of the following: developing, monitoring progress and impact of our continuous improvement projects; empowering staff to deliver business effectiveness, adding value, through our inclusive, dynamic and positive environment all with the aim of raising professional standards and enhancing our organisational performance.
Continuous improvement activity includes: action planning via cross team working, to address the findings from the latest Staff Feedback Survey and Customer Service Excellence assessments; preparing for pan-university functional reviews; mentoring and coaching staff; managing and supporting my LDF team and eight LDF Associates – who are conduits to the LDF that perform a pioneering and innovative role on a 0.4 contract, per week within their respective Faculty or Division, supporting change capability to improve operational efficiency.
I am passionate about developing and delivering excellent practice, I contribute to the following networks and management groups including: the Executive Leadership Team; Employment Committee; Aurora Network; AUA Network; Athena Swan Steering Group; Stress Risk Management and Wellbeing Steering Group; Corporate Charities; Concordat Task Group; Apprenticeship Degree Project Board LGBTIQ+ Network, Staff Development Delivery Agents Forum, the NW Coaches Forum and the ODHE Network.
I also offer advice and guidance SDF/ODHE colleagues to support their leadership and emerging OD challenges and HEIs considering working towards the AUA Mark of Excellence.
Tell us about an event that altered the course of your life/and career
After I graduated in 1980, I set up a Theatre In Education Company. Following this I became a peripatetic drama therapist working in Schools. I had found my vocation and thereafter my career has been devoted to developing people, leaders and teams to be the best version of themselves.
The person who has influenced you the most is
Professor Bob Thackwray, my mentor, who I worked with on various OD HE projects.
Work life balance – what leisure activity you enjoy the most?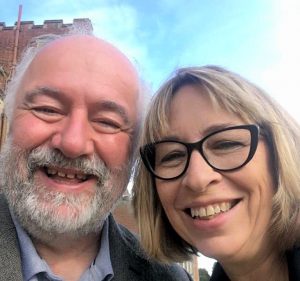 Cycling along the Liverpool to Leeds canal tow path.
Something about you people would find surprising
My partner and I designed a hybrid dutch barge, we named her 'Whispering of the Stars' and lived aboard for 10 years.
What's your greatest fear?
Climate change.
Who would you invite to your dream dinner party?
Olivia Coleman, Bette Midler, Aretha Franklin, Michelle Obama and the Dalai Lama.
What would your super-power be? 
To travel through time, revisiting the past and the future!
What's your favourite/least favourite food?
Spaghetti Vongole/Tripe!
What's the worst job you ever had?
Working as a waitress in a cocktail bar.
What thing would improve the quality of your life?
A holiday in Italy.
What's coming next for you?
Jury Service
Launch of the 4th Year of the North West Cross Institutional Action Learning Programme supporting women's career progression and publishing a book on the NWCIAL Scheme
Reviewing the Aurora Women's Leadership Programme
Producing an HE sector case study on the University's achievement of the CSE Standard and compliance plus ratings
Contributing to an updated edition of an OD in HE book
Reviewing levels of staff engagement, models and measurement
UHRDF 20th Annual Conference on Leadership and Talent Management
Horizon scanning, beyond Brrrrexit!