North East & Yorkshire Staff Development Partnership
Group Representative Profile – Catherine (Katie) Leeman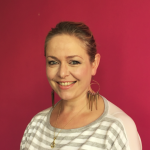 Hello and welcome to 'NEYSDP' – a network of organisational and people development practitioners, representing Higher Education Institutions across the North East and Yorkshire region.
I am a People Development Adviser at Sheffield Hallam University (SHU). The role and its responsibilities are extremely diverse and range from designing and delivering training on our core development programmes, creating and implementing faculty and directorate specific programmes, bespoke personal and departmental development, mentoring, coaching, mediation and change management.
I am particularly interested in supporting leaders and their staff through change programmes, providing development opportunities and support through what can be an ambiguous and highly emotive experience. I also have a great interest in the career trajectories of female HE employees and currently lead on a University-wide mentoring programme specifically designed to address the gender gap of female academics in HE leadership positions.
Prior to joining SHU I held organisational development positions at The British Council and Cancer Research UK with a particular focus on performance and talent management, and culture change. In an earlier life I was an external HR consultant, both in the UK and the Middle East. I hold a Masters in Occupational Psychology from Birkbeck College, University of London. I am also a neuro-linguistic programme practitioner and a qualified workplace mediator.
I am fortunate to reside in one of the most beautiful parts of the country and enjoy fell walking – Nidderdale being a particular favourite. I also have interests in history, entomology, restoration/renovation and would describe myself as a keen 'experimental DIY-er' which sometimes results in positive outcomes.
I can be contacted by emailing: c.leeman@shu.ac.uk
To find out more about who we are, when our events take place, and access the outputs generated by our network meetings – click on the icons below.
| | | |
| --- | --- | --- |
| NEYSDP MEMBERS | NEYSDP EVENTS | NEYSDP OUTPUTS |