SDF Conference 2019: Building Bridges for Emerging Futures
by Rossana Espinoza November 12, 2019 9:47 am0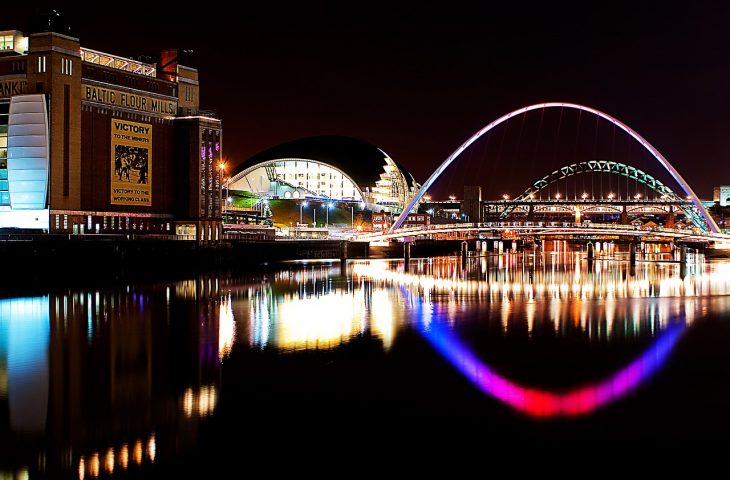 SDF Conference 2019
Building Bridges for Emerging Futures
Date: 21st and 22nd  November 2019
Venue: Hilton,  Newcastle
List of Delegates
'Northern legacy. The past is not just Kings and Queens, it's those like me and you'.(Ian McMillan)
Follow the Angel of the North to this year's SDF Conference in Newcastle. Surrounded by the beautiful coast line and the monumental bridges, Gormley's sculpture reminds us to recognise the legacy that we, as staff developers, are leaving behind, to grasp the transition from an information age to an age of uncertainty and evolving challenges, and to serve as focus for our evolving fears and hopes.
Inspired by Northern poets, this is the time to celebrate, explore, connect and build. We invite you join us on this vibrant city in the north east, to embrace the strong winds of the north in the warmth of your remarkable network of professionals, giving you an opportunity to develop your own practice to the next level. Come and join us to explore together the power of being human when facing emerging futures.
This year's SDF Conference will focus on five key themes:
Building connectivity: Build human connectivity in times of continuous emerging technologies to help us surface from isolated silos;
Rise of the humans: Embrace the rise of the humans and how we can develop ourselves and others further with play, storytelling and active learning;
Learning playground: Explore tools, techniques and approaches in the safe environment of Staff Development Forum's learning playground;
Future scanning: Connect with other professionals to collate, make sense and take decisions from data and horizon scanning;
Celebrate collegiality: Celebrate the value of what staff developers and colleagues outside the sector do well to develop others.
These themes will be explored through active learning approaches in the formats of workshops, symposium, debates, learning playground activities (quick demos and trials), digital conference posters, our sponsors and exhibitors.
---

Booking form SDF conference 2019 form to download 
(closing date: Friday 20 September)
DAY ONE – Thursday 21st November 2019
09:30 – 10:15 Foyer Arrival, refreshments and registration
10:15 – 10:30 (Gateshead Suite) Welcome from the SDF
10:30 – 11:15 (Gateshead Suite) Keynote 1 – Professor Chris Day, Vice Chancellor & President University of Newcastle – View from the Bridge: developing and implementing a strategy for success
11:15 – 11:45 Foyer Refreshments, and Exhibits
11.45 – 12:45 Workshop 1 (Gateshead Suite) – Reaching outside the silos – using people analytics to aid collaboration. Jo Keeler, Managing Partner, Belbin
We know that "Employees who can reach outside their silos to find complementary expertise learn more, sell more and gain skills faster" – HBR
This workshop will look at how you can use people analytics to facilitate this collaboration – using our understanding of human behaviour to help break down barriers and build connectivity. We will be using real data – your data, as part of this interactive workshop.
11.45 – 12:45 Workshop 2 (Workshop 1)  – Playing the Change game. Craig Smith, BigPicture Learning Limited
How do you generate and maintain a positive dialogue about the changes going on in your organisation at the moment? Craig Smith from BigPicture Learning will show you how to use dialogue and gamification to connect your people to your organisation's change narrative. This fun and interactive workshop will involve playing 'The Change Game' board game in small teams and thus exploring the mindsets required to build your employees' change resilience."
11.45 – 12:45 Workshop 3 (Worshop 2) – The positive approach: helping to lead happier and more fulfilling lives. Lizz Jones, Tallant Jones Ltd
Experience this taster of The Positive Approach: a programme focussing on how to lead happier and rewarding lives. We're all hard-wired with 40% of happiness coded into our genes. The Positive Approach programme concentrates on the remaining 60%, and helps you to answer the question: how can I be happier?
11.45 – 12:45 Workshop 4 (Hillgate) – The hopes and aspirations of Generation Z: what are the implications for staff developers? Paul Gentle, Academic Director; Louise Clifton, Director of Marketing, Communications and Operations, Invisible Grail
What are the skills and insights that people working in higher education will need to connect with, and understand, current and future generations of students? Bringing together 3 viewpoints from a student, Organisational Developer and the Invisible Grail team, we'll consider designs for learning and development which will help staff developers prepare their workforces for the needs and hopes of Generation Z.
12:45 – 13:45 Lunch
13:45 – 14:30 (Gateshead Suite) Keynote 2:  Making Things Happen Your Way – With a Winning Mindset– Jenny Garrett, an Award Winning Coach, Speaker and Trainer with over 12 years' experience of running a Global Business. She is a Freeman of the Guild of Entrepreneurs – City of London and was listed in Brummell Magazines Top 30 City Innovators 2016. 
14:30 – 15:00 (Gateshead Suite) SDF Executives update
15:00 – 15:30 Refreshments, and Exhibits
15:30 – 15:45 Move to workshops
15:45 – 16:30 Workshop 5 (Workshop 1) – Technician Commitment: Working with the NTDC to help achieve your Technician Commitment pledges, Sara Bacon, Manager, NTDC; Chris Turgoose, Centre Manager, NTDC
The NTDC Toolkit is being used by HEIs to support their Technician Commitment. We will share case-studies on the process and outcomes of using the Toolkit to support delivery of Technician Commitment pledges and show how this is enhanced through partnerships working between OD/SD staff and the technical community.
15:45 – 16:30 Workshop 6 (Gateshead Suite) – Playful & active learning: An approach to group dynamics in team coaching, Alys Kay, Faculty of Science and Engineering; Dee-Ann Johnson, University of Manchester; Dr Rachel Cowen, Faculty of Biology, Medicine and Health; Dr Gemma Muckle, Faculty of Science and Engineering; Stefanie Edler-Wollstein, University of Manchester
In 2018 the University of Manchester launched a unique team coaching pilot, equipping 5 internal coaches to coach multiple teams. Based on our experiences during the team coaching pilot and drawing on team coaching literature, this workshop will allow you to explore creative techniques that are specific to team coaching, to help teams understand team behaviours, collective emotional intelligence, team dynamics and culture issues.
15:45 – 16:30 Workshop 7 (Hillgate) – Kaleidoscope of Induction, Laurna Macaulay, Edinburgh Napier University/People Services; Sarah Carty, University of Roehampton/Learning and Teaching Enhancement Unit
Induction for HE – ensuring new staff joining the University feel welcomed, supported and clearly understand what they need to complete during their induction. Different perspectives from three Universities, in how to make inductions welcoming, supportive, informative and inclusive in a fun and engaging way. Kirsty Dixon, University of York/People & Organisational Development
15:45 – 16:30  Workshop 8 (Workshop 2) – The role of inclusive leaders in creating collegiality,  Peter Macdonald Hall, Principal Consultant, VERCIDA Consulting
 Today, change is the new norm. It is, paradoxically, a constant factor on the landscape of 21st Century business leaders. Managing change is, or at least should be, at the top of their 'to do' list'. As stated by the Rosabeth Moss Kanter, professor at Harvard Business School and chair and director of the Harvard Advanced Leadership Initiative, Surprises Are the New Normal.
The session from Dan Robertson is supported by Marshall E-Learning. Attendees will benefit from complimentary access to an online course developed for the SDF conference.
To find out more about Marshall E-Learning please visit www.marshallelearning.com
16:30 – 16:45 Move to keynote
16:45 – 17:30 (Gateshead Suite) Keynote 3 – Leadership in the Social Age.  Julian Stodd, Author of The Social Leadership Handbook and Exploring the World of Social Learning. Leading the Social Age movement. Working on writing and research around Dynamic Change and the Landscape of Trust.
17.30 Free Time and Networking
19.00 Pre Drinks Reception sponsored by Marshalls
19.30 (Gateshead Suite) Conference Dinner and Cylix Awards
20.30 Followed by Cappella Choir
Tune Army' and we are Newcastle University A Cappella Society's mixed competition group
---

Booking form SDF conference 2019 form to download 
(closing date: Friday 20 September)
Day Two – Friday 22nd November 2019
08:45 – 09:00 Welcome to Day SDF Executive
09:00 – 09:45 Keynote 4 (Gateshead Suite) –Establishing & Developing Continuous Improvement with Organisational Impact. John Hogg, Director of Continuous Improvement, University of Strathclyde & Chair of HE Lean Europe
In his keynote entitled 'Establishing & Developing Continuous Improvement with Organisational Impact', John will share his experience of establishing the award winning continuous improvement function in the University of Strathclyde in 2013. The session will highlight the importance of clarity of purpose, the positive impact of employee engagement, empowerment of staff, collaboration and how building capability can help to embed and sustain a culture of continuous improvement.
09:45 – 10:00 Move to Workshops
10:00 – 11:00 Workshop 9 (Gateshead Suite) – Dialogue and the transforming organisation, Simon Inger, Learning and Organisational Development Manager, University of Bath, Nick Kapoutzis, Head of the Learning and Development Centre, Imperial College London)(Co-chairs of the Organisational Development in Higher Education Network.)

In this immersive session we invite you into conversations and reflective spaces to examine how meaning is held and made among the groups that make up our Universities, including practitioner groups like ours. It's possible that it may deepen your insight into how dialogue fits into plans for change and transformation, and how working with a dialogic mind set fits with notions of collegiality. Or something else may emerge; let's find out.As OD practitioners we often have the privilege, pleasure, challenge and despair of working with diverse groups of colleagues, ostensibly in processes that are to transform our organisations. It can be the most collegiate of endeavours, and offers a chance to deal with adaptive challenges whose solutions can't be known in advance.   But this very opportunity exists because the nature of reality is being changed in every conversation –  inside and outside the room – as people make meaning that guides their experience. As Bushe and Marshak point out, "language – broadly defined – matters."
10:00 – 11:00 Workshop 10 (Hillgate) – Superhero murder mystery: Problem solving & critical thinking competition, Michael Monaghan, Leadership and Development Adviser, Leadership and Development Foundation, LJMU
In groups of twos and threes, delegates will complete six interactive problem solving and critical thinking activities to earn the six clues needed to gain access to the case file for the superhero murder mystery. The first group to solve the murder mystery will win the star prize; with additional prizes for all who manage to solve it. The activities will be pragmatic and fun, with delegates leaving the session feeling positive and energised in the AUA Professional Behaviour area of Finding Solutions.
10:00 – 11:00 Workshop 11 (Workshop 1) – Job Crafting – the science and art of personalising our work to foster thriving people, teams and organisations, Rob Baker, Tailored Thinking

Work is broken. If our work was an item of clothing, for most of us, it would be a straight-jacket. Or at best an ill-fitting suit. Modern working practices are failing us – constraining rather than amplifying our diverse skills, strengths, passions and interests. No wonder globally over 90% of us aren't engaged, excited and energised about our jobs.
What if we started to tailor work around people, rather than expecting people to tailor themselves around their jobs? What if we took a more personalised approach?
This session will provide an overview of the science and art of job crafting.
10:00 – 11:00 Workshop 12 (Workshop 2) – Discover time to think, Andrew Scott, Andrew Scott Training Consultancy Ltd
This session will provide a brief introduction to Nancy Kline's Thinking Environment (cf Time to Think and More Time to Think) and then give participants the opportunity to practice the approach, and discuss its merits and shortcomings, and how they might apply it in practice.
11:00 – 11:30 Refreshments /Exhibits
11:30 – 12:15  (Gateshead Suite) Session for all – Looking glass logic: Free your inner Alice
Curiouser and curiouser; Albina Shashyna and Chris Watt explore believing in six impossible things before breakfast or if Alice was right and "There's no use trying, one can't believe impossible things." Chris Watt Head of Organisational Learning, Albina Shashyna, Organisational Learning Manager, LSE
12:15 – 13:15 Lunch /Exhibits
13:15 – 14:15 Workshop 13 (Workshop 1) – AUA: Achieving Professional Excellence, Jo Forsyth, Professional Development Officer, AUA
An introduction to the AUA CPD Framework of Professional Behaviours and how it can be used to support the career development of HE professionals and career pathways within your organisation.
In this session we will provide practical guidance and advice on how to use the AUA CPD Framework within your professional development provision and how you can adapt it to meet your organisation's priorities and processes.
We will demonstrate how you can use the Framework at various touchpoints within the employee lifecycle, and share case studies to highlight the work already done at a number of organisations.
13:15 – 14:15 Workshop 14 (Workshop 2) – The power of play – banning beige, boring and boardroom style learning, Annie Clarke, Annie's Training Company Ltd
The session will share the science behind play and the impact creating a brain friendly learning environment has for learners. It will share techniques for creating a playful learning environment in a range of situations and detail how to incorporate play into any training session.
13:15 – 14:15 Workshop 15 (Gateshead Suite) – Challenging privilege and the danger of the single story, Clare Pavitt and Sukhi Kainth, Advance HE
How do the stories we tell in HE influence the experience of our diverse staff and students? Using author Chimamanda Ngozi Adichie's concept of the single story, this workshop explores how majority group privilege impacts on story-telling and what practical steps we can take to disrupt it.
13:15 – 14:15 Workshop 16 (Hillgate) – Change the language, change your culture, Henry Playfoot, Pitch Doctor
The language we use expresses and defines our organisational culture and how we are seen and experienced by the outside world. This practical session looks at why language and tone of voice are essential ingredients in driving and embedding culture change at every level and across every department.
14:15 – 15:00 Session for all (Gateshead Suite) – How to get a better night's sleep and fine-tune your rest. Helen Connor and Christian McGrath, Staff Development, University of Huddersfield
Helen and Christian have been working in organisational development for over 20 years. Using positive psychology approaches in their training and coaching they are passionate about helping individuals and teams to meet their full potential whilst managing their own wellbeing. Working at University of Huddersfield they offer a range of courses to help individuals care for themselves, with the belief that if colleagues are maintaining their own mental health then motivation and productively will follow. This bottom up approach in supporting colleagues to achieve individual, team, departmental and organisational success is at the heart of what they do. Starting with the basics such are sleep, rest, and recovery they strive to lay the foundations for individuals to be the best they can be.
15:00 – 15:15 (Gateshead Suite) Closing Remarks and Prizes SDF Executive