Creativity in coaching with Sketchnotes
by Contributor September 30, 2018 11:34 am0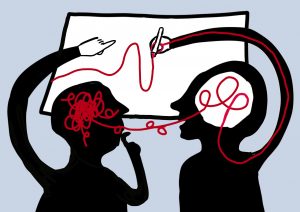 Creativity in coaching: Sketchnotes for 2
All pictures copyright Conni Eybisch-Klimpel
Here a 12 examples of my work as a career couselor. They show hwo I use sketchnotes to explain processes, have a deeper understandding of others perspectives generate, cluster and select ideas, make up decisions, plan processes, document and evaluate them.
Blog produced with permission. See original source here
Conni works as a work psychologist and career coach in the Berlin based NGO Frau und Beruf e.V (www.frauundberuf-berlin.de). She counsels female academics on and in between jobs, organises network- and success teams and is responsible for public relations.
For coaches, consultants, leaders and therapists, who would like to deepen and expand their work with visual tools she provides workshops and coachings (more information on her website www.eybisch-klimpel.de, Twitter: @thevisualcoach, Instagram: @connieybisch).