Can we be lean? Adapting lean to HE
by Contributor April 22, 2018 8:10 pm0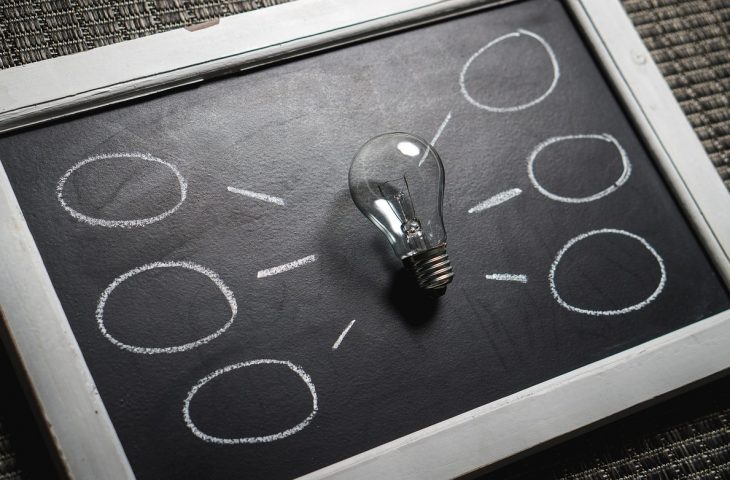 Can we be lean? Adapting lean to an HE environment
Reflections on the 'MSDP meets Lean' event (March 2018)
Introduction
Can we be lean? This is a question I will be asking my institution this summer. In March the MSDP with support from an SDF Regional Grant organised its "MSDP meets lean" event facilitated by Christine Stewart from www.macresco.co.uk/. The event hosted at Cranfield was attended by 19 participants from 13 different HEIs who wished to become better acquainted with lean concepts and how they might apply these to their own institution.
To enable this article to be lean, a useful overview of the concept can be found via the Lean HE hub. If you're new to lean please read this quick 1 page synopsis and then rejoin us.
This article provides a quick snapshot of how 13 different HEIs are considering how they will do more with less. Its primarily based on 3 specific questions asked in the evaluation sheet which was completed by 15 of the 19 participants. I will also provide an insight into my initial endeavours to embark on a conversation about lean within my own institution at Oxford Brookes.
Q1: Your current situation: Your HEI approach to efficiency improvements
How would you describe (in general terms) the current approach to supporting efficiency Improvements?
As you may anticipate there was a variety of responses to this question. However the dominant view was that most HEI's approaches to efficiency improvement was "scattered" and "uncoordinated". It happens in pockets and silos. A couple of HEI's have recently initiated dedicated units (Improvement Unit / Strategic Change Office) to promote efficiency improvements but it's too early to provide a view on their impact. One institution had brought in an external organisation to undertake business process reviews, however this was not received well and has subsequently resulted in resistance to this approach.
Q2: Instant reaction (from the event): Is there potential for applying a lean approach in your HEI?
The response from the majority of participants (13 out of 15) was yes there is a potential for applying lean thinking (followed by 1 maybe and 1 to early to say). Fllow on comments evolved around how to adopt and incorporate lean thinking into HEI's whilst not necessarily labelling it as lean to avoid negative reactions.
Q3/ Next steps: What are the key factors to be considered which could either enable or hinder lean to be viewed as a viable option in your HEI?
Force Field Analysis: What are the driving and resisting forces to implementing Lean?
For me this was the key question of interest. I have integrated the majority of the participants comments as a force field analysis depiction.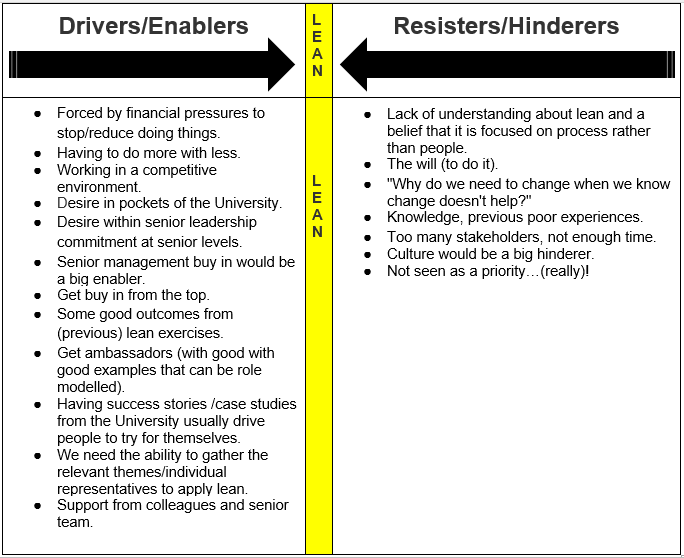 Other comments from participants included
Senior management see lean as a tweak, however quick wins such as the low-level (initiative name removed) are gaining traction and staff are talking about positive outcomes additional benefits of team building and appreciation of what actually happens.
Not necessarily calling it lean, but engage colleagues in the principles (no labels) on business critical activities.
General observations
A point from the "Machine that changed the World" (Womack 2007) chronicling the origins of lean is that it is underpinned on a philosophy of respect for people, which took Toyota 20 years of trial and error to fully implement its methodology. Therefore lean represents a major commitment and not a quick a fix.
External pressures are compelling us to look at how we do more with less. To initiate a lean approach into our HEI's we need to educate our senior management as to what a lean approach actually entails (dispelling any misconceptions along the way). We need to carefully identify potential areas which could exemplify the application of lean methodology which could then be subsequently used as successful case studies and so expand the concept incrementally into our organisations.
Initiating a conversation on lean at Oxford Brookes
Last year I was approached by a couple of managers within Brookes enquiring about lean. I was able to advise them that by happen chance I was about to embark on my investigations and my aim would be to invite them (and any other interested managers) to an exploratory workshop
My initial preparation in equipping myself for this conversation has included
Enrolling as an external (paying) delegate on University of Stirling's ILM Lean for Leaders (internal) course. I am grateful to Lona Prince, Organisation Development Partner at Stirling for her enthusiastic promotion of lean thinking in the sector.

You may be interested in this short overview clip on how lean is being used at Stirling.

Organising and attending the 'MSDP meets Lean' event with Christine Stewart

Background reading and research (a selection provided at the end of this article)
My instinct is to avoid any big bang approach. If lean thinking is to gain any traction within the University it has to come from a desire to want to try it. So I am going to start with a conversation and debate with interested parties.
I am organising an initial one off workshop exclusively for senior managers in June (finding the optimum less busy week in the academic calendar to enable attendance). I have positioned it as an exploratory workshop for the "curious" with a key workshop outcome to see if there is an appetite to adopt a lean approach in a couple of pioneer departments.
I emailed out the invitation to senior managers last month and within a couple of days had 20 Heads of Departments and Associate Deans signed up.
I have already identified a previous project at Brookes (a move to managed print services) which could assist participants in making a connection with the lean principles and found examples which will resonate with the 8 service wastes (as opposed to the 8 manufacturing wastes) associated with lean.
The following slide snapshots provide an insight into the workshop aims and content.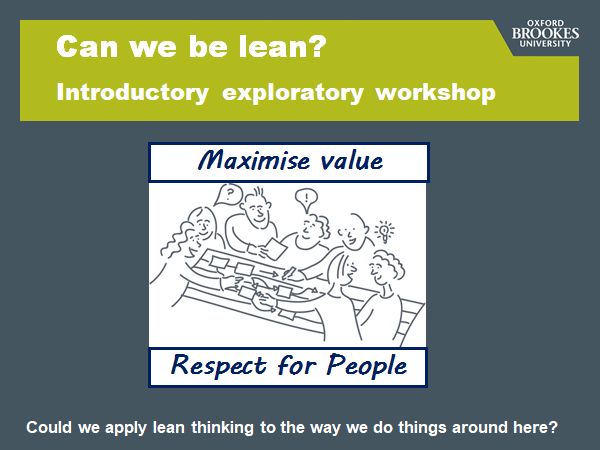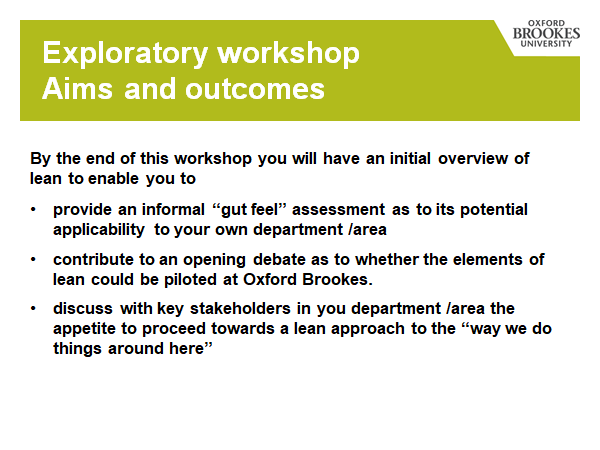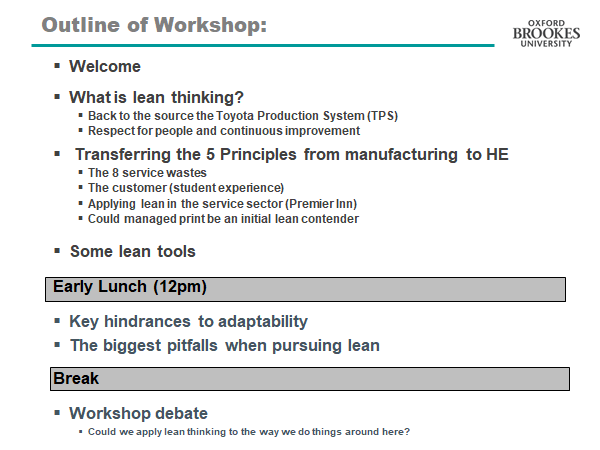 This is the start of our lean journey, its iterative and definitely not prescriptive, so I can't tell you at this stage the route (or not) it will take or any outcomes. What I can say is that if you don't start the journey with respect for people, the journey won't be a long one.
Background reading and research
LeanHE
a worldwide
peer organisation for people working to apply Lean and similar approaches in Higher Education.
The Lean Enterprise Institute is a nonprofit based organisation with a mission to make things better through lean thinking and practice. Founded in 1997 by management expert James P. Womack, conducts research, teaches educational workshops, publishes books and ebooks, runs conferences, and shares practical information about lean thinking and practice.
The Karen Martin Webinar series, a useful resource of free webinars and slides related to a plethora of lean topics
Lean teaching (Bob Emiliani) Dr. Emiliani worked for 15 years in management and technical areas in industry before leaving industry to become an academic world. He then adapted lean thinking to his teaching approach. His website provides academics with insights into his techniques.
The Karen Martin Webinar series, a useful resource of free webinars and slides related to a plethora of lean topics
Womack J. Jones D (1996) Lean thinking: Banish waste and create wealth for your corporation Simon & Schuster New York
Womack J. Jones D and Roos, D (2007) The machine that changed the world, Simon & Schuster UK
and not forgetting the LFHE Management Development Resource series
MDR-4 Lean management – doing more with less developed for the LFHE by Cardiff University
https://www.lfhe.ac.uk/en/member/lf-mdrs/index.cfm (requires your membership login)