Getting straight to the point with no extra frills
by Contributor November 5, 2017 9:17 pm0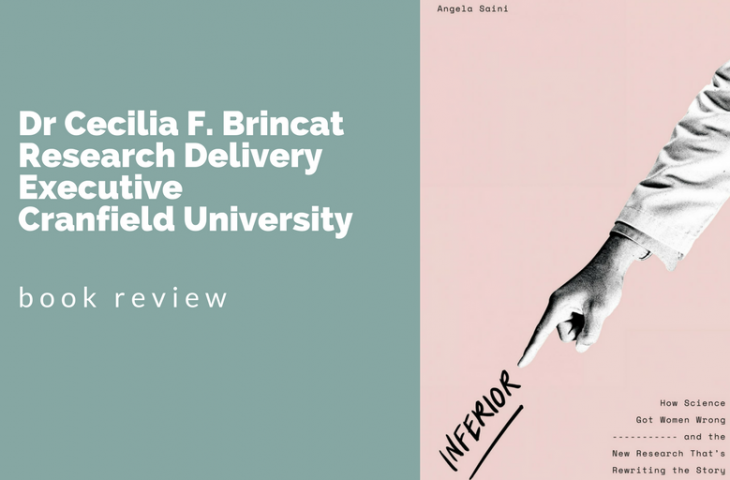 Getting straight to the point with no extra frills
Dr Cecilia Fenech Brincat is a Research Delivery Executive at Cranfield University who took part in Aurora in London in 2015-16. Aurora gave her the confidence to discuss professional issues with a mentor. She gives a scientist's perspective on Angela Saini's latest book: 'Inferior: How Science Got Women Wrong'.
This book by Angela Saini starts as it means to go on – no hiding behind fingers – getting straight to the point with no extra frills. The front cover simply depicts a finger pointing downwards towards the text 'Inferior' and the name of the author written in quite a small font. This is how most women are made to feel, and it puts the reader immediately in the same frame of mind, without even opening the first page. This is the way the book tackles a range of issues throughout life – from birth to old age. It considers aspects such as a lack of women in science, foetal selection based on sex, motherhood and sexual harassment, and proves a refreshing read.
One of my favourite aspects of this book is how Angela Saini moves from the personal anecdotes, to available statistics and scientific studies, to bringing to light the things many (men and women) think but rarely dare to say aloud. Personally, as a scientist by training, the personal anecdotes brought the book to life. However, it is the way the scientific research is presented – with more than simply the results being included but also aspects such as the societal context around them and/or the discussions being held within the team doing the research or other researchers in the field – that truly made this book shine.
Inferior made me think about aspects such as how the interpretation of science (rather than the research itself) has often been the lens by which women's capacities are construed within research. This is largely as the research is interpreted within the context of the scientist's social prejudices, and this research then influences social beliefs. How do we decide which is the predominant cause in this back and forth relationship between social beliefs and scientific research? And possibly more importantly – How can we ensure that this factor is eliminated?
I also enjoyed how Angela Saini celebrated the work of women and researchers in the field from the well known to those I admit I have never heard of, and am now interested to learn more about. It is unfortunate that as Angela Saini says, "In the history of science, we have to hunt for the women – not because they weren't capable of doing research, but because for a large chunk of the time they didn't have a chance".
This book was thoroughly enjoyable to read. Whilst dealing with quite a significant topic, it is a pleasant read that flows well and makes you want to be able to read quicker than is actually possible. This was my first experience of reading an Angela Saini book, and I know that I will now hunt down her other books – if they are half as enjoyable as this one, I am on to a winning streak.
Cecilia was is one of three Aurora alumnae who have reviewed Angela Saini's book. You can read the other reviews here:
You can find out more about the three book reviews here.
If you are an Auroran, an Aurora champion or an Aurora role model you can join the Aurora Book Club online now.
Aurora is the Leadership Foundation's women-only leadership development programme. Aurora was created in 2013 in response to our own research which highlighted women's under-representation in senior leadership positions and identified actions that could be taken to address this.
Dates, locations and booking for Aurora 2017-18 are available here.