Science and gender: old questions, new perspectives
by Contributor October 5, 2017 9:04 pm0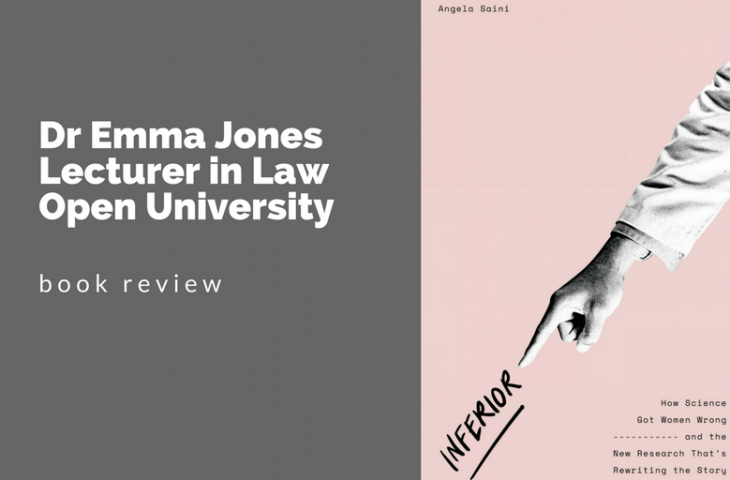 Science and gender: old questions, new perspectives
Dr Emma Jones is a Lecturer in Law at The Open University who took part in Aurora in Leeds in 2016-17. She found Aurora an incredibly useful space to reflect on her career progression and goals. She gives an academic's perspective on Angela Saini's latest book: 'Inferior: How Science Got Women Wrong' which proves to be an eye-opening read, and reflects on the parallels that can be drawn between Science and Law.
As a non-scientist myself, I had always perceived science as objective and neutral (in terms of gender and otherwise).  I had assumed there was, in most cases, a scientific 'right' answer which would be discovered as empirical research uncovered the appropriate evidence.  Having read Saini's book, it turns out, I was wrong on all counts.
What is fascinating about this book is the way it uses key scientific debates to trace how men and women have been depicted within science, and to expose and challenge pre-existing biases by drawing on fresh research and evidence.  For example, Saini discusses the longstanding notion that women are intellectually inferior to men, quoting from correspondence by Charles Darwin that demonstrates how embedded this idea was in the Victorian era.  She also considers how this has evolved into the idea that women may be equal, but their strengths are different.  In contrast, she draws on recent work which convincingly demonstrates that any possible negligible differences are far outweighed by the similarities between the sexes.
I particularly enjoyed the final chapter of the book, "The Old Women Who Wouldn't Die", which examines the role the post-menopausal woman did, and does, play within society.  This draws on research that portrays the ageing process for women as positive, emphasising the value and importance of older women.  
While this book fundamentally challenges perceptions of science as objective and neutral in its treatment of women, Saini is balanced enough to acknowledge and explore the more nuanced, less binary aspects of scientific debate.  As someone who does not regularly read scientific journals, some of her references to where research had been published were not particularly helpful to me, as I was unsure if these were seminal articles, or merely publishing fodder.  However, I enjoyed the fact she had included interviews with key protagonists, along with more anecdotal and historical insights, making her whole book eminently readable.
Something I wasn't expected was the parallels I could draw with the discipline of law.  As a legal academic, I am aware that the law is often treated as a series of rules providing clear "do's" and 'don'ts' for society.  It is also often held out as objective, neutral and inherently unbiased.  This is a portrayal that has been increasingly challenged by feminist and critical viewpoints, which have exposed many of its internal contradictions and prejudices.
Saini has provided a similar critique of the way in which science has approached men and women.  Her book is easily accessible to the non-scientist and provides a welcome antidote to the scientific reporting in popular media.  This reporting, as Saini demonstrates, often appears to amplify the conventional assumptions and stereotypes that science has perpetuated.  By drawing upon research and evidence that challenges these, this book makes an important and significant contribution to the popular understanding of science.
Emma was is one of three Aurora alumnae who have reviewed Angela Saini's book. You can read the other reviews here:
Julia Murphy, HR Officer, Scottish Funding Council
Dr Cecilia Fenech Brincat, Research Delivery Executive, Cranfield University
If you are an Auroran, an Aurora champion or an Aurora role model you can join the Aurora Book Club online now.
The Leadership Foundation have secured a discount for Aurorans to attend, award-winning author Rebecca Solnit in conversation at the London Southbank Centre on 30 October 2017. We have secured a £5 discount on the £25 and £35 tickets. To book enter code: SOLNIT in the promo code box prior to selecting your seats (top right hand corner) or call the Ticket Office on 02038 799555 to book quoting SOLNIT. If you are planning to attend, please email Alice Hargreaves.
Aurora is the Leadership Foundation's women-only leadership development programme. Aurora was created in 2013 in response to our own research which highlighted women's under-representation in senior leadership positions and identified actions that could be taken to address this.
Dates, locations and booking for Aurora 2017-18 are available here.