Why Leadership Matters?
by Contributor September 28, 2017 6:57 am0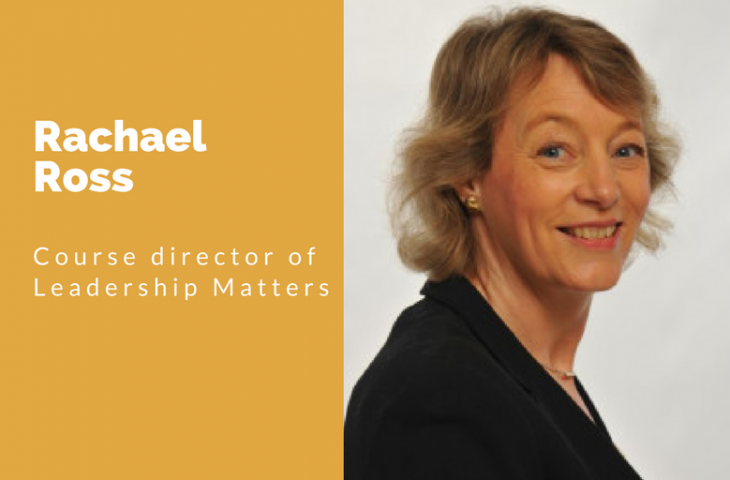 Reflections from Leadership Matters: supporting senior women in higher education
Rachael Ross is the course director of Leadership Matters, the Leadership Foundation programme for senior women in higher education. Two years on from its inception, Rachael reflects on why the programme is needed and how it was developed.
Why Leadership Matters?
Just 18%  – or 36 – of the top 200 universities in the world have a female leader, according to the latest THE 2016-17 world university rankings, and men still overwhelmingly dominate the top leadership roles in 166 higher education institutions across the UK (Women Count: Leaders in Education 2016).
Higher education leaders work in a world where rapid cultural change is the norm rather than the exception. Understanding how our institutions are financed and governed, combined with the political savviness needed to navigate them, is essential, and the wider economic and social waves of change require a firmly grounded leadership purpose and resilience.
Women leaders have a huge amount to bring to the higher education sector and fully releasing that potential is, I believe, essential to the long-term health and sustainability of the sector.  But research shows that gender bias in organisations continues to "disrupt the learning cycle at the heart of becoming a leader". (Harvard Business Review)
In the development process of Leadership Matters we listened to feedback from leaders across the sector, from our alumni and from the Aurora community. Crucially, the course had to be a safe space where women leaders could develop their own unique authentic leadership and navigate the cultural challenges they face.
As course director of Leadership Matters, the programme created two years ago to meet that need, I feel it is timely to take stock and share some thoughts about my approach and what I believe makes Leadership Matters so suited to senior women leaders.
Clear direction
Leadership Matters is a five-day programme that addresses both technical and personal leadership aims. Participants have a clear goal from the beginning, with each day serving a defined purpose. For example, day one demystifies the financial frameworks of higher education while day two focuses on governance and legal requirements. There is then an action learning set day for women to reflect on their learnings so far in a small peer group. Day four then tackles the cultural and political challenges that all leaders face, working to build participants' confidence to navigate these in the context of a higher education institution. Finally, on day five, the focus is on participants identifying their true purpose as a leader, and confirming their own leadership identity and "narrative" or story.
As a whole, the programme provides a mix of technical and development skills, ensuring that participants leave feeling more confident in their own leadership, prepared to navigate their organisations' culture, and equipped with real insights into their organisations' financial and governance system.
A network of female leaders for continued learning
The programme supports learning groups that live powerfully, well beyond the limits of the programme itself, providing women with continued support as they work towards reaching the highest executive levels. At the heart of this are the Leadership Matters action learning sets, which provide women with the opportunity to build strong ties with a network of peers.
Learning from the experts
I'm proud to have brought together a multidisciplinary team of facilitators and speakers to work on Leadership Matters. Each is an expert in her own field, with deep experience in the academic world, and we all share an ambition to truly equip delegates for senior leadership.
Gill Ball OBE, former director of finance at the University of Birmingham
Christine Abbott, former university secretary & director of Operations at Birmingham City University
Sally Cray, an experienced Leadership and Organisational Development Specialist.
You can read more about myself and my fellow 3 facilitators here.
A personal learning environment
As the programme is designed for senior leaders who are striving to reach the very top tier of higher education, the cohort sizes reflect this. While the Aurora programme now attracts up to 250 women per cohort, Leadership Matters is designed to provide participants with a much more intimate training in cohorts of around 20 women.
Active, sustainable learning
Our job as facilitators is to find a balance between introducing some key concepts and models, allowing time to reflect, and encouraging delegates to experiment by applying the learning to their own personal and organisation context, which makes the learning sustainable well beyond the five days of the programme itself. As a result, Leadership Matters draws particularly on Kolb's Learning Cycle, which emphasises an active learning style in which we learn from our experiences of life, and reflection is an integral part of such learning.
Leadership matters – now more than ever
"As a result of attending the programme I understand my own impact better and the action learning sets I've attended with other members have continued on past the programme itself, and have been invaluable."  – Kirsteen Coupar, director of student support and employment at London Southbank University
I believe that Leadership Matters has shown itself to be an essential programme – for both women leaders and for the higher education sector as a whole. It is critical that the sector draws on all the talent and potential within its realm, to nurture and develop leaders with the vision and confidence to guide higher education through the turbulent economic and social change it is facing. Leadership Matters is helping to meet this urgent need, supporting women to strive for the highest possible levels of leadership so that they can play their part in steering their institutions to greater success.
---
Rachael Ross has a background in industrial relations and change management in the energy sector. She is now a leadership and diversity consultant and coach for senior leaders across all sectors. She is the course director for Leadership Matters.
Leadership Matters will be taking place in Birmingham, Manchester and Bristol in Autumn, Winter, and Spring respectively in the next academic year. For more information and to book a place please click here.