53 ways to enhance researcher development
by Contributor September 27, 2017 7:40 am0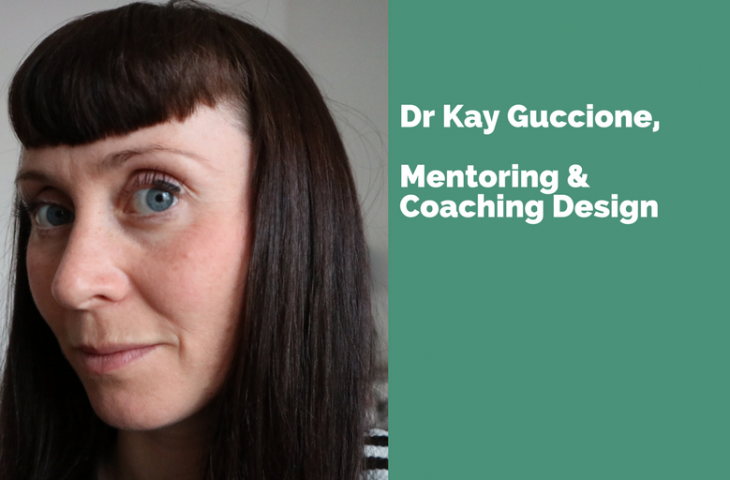 k.guccione@sheffield.ac.uk
@kayguccione
The need for researcher development?
In recent years, the international research landscape has undergone many significant changes. As research funding models have changed and finances shrunk, the role, and expectations placed upon 'The Academic' have grown. These changes have resulted in a need for research staff and students heading towards future academic careers to think much more broadly about their role, and to quickly develop a huge range of skills and approaches to conceiving, doing, and communicating research.
Additionally, across the world researchers, and research institutions, are being required to do much more than just 'data collection and analysis' from project to project. They are responsible for adhering more tightly governed research and reporting systems, and at the same time, expected to think bigger and more creatively about working across discipline boundaries, and the quality and societal impact of their work. This difficult balancing act needs significant attention to be paid to the development of strategies for personal effectiveness, self-leadership, resilience and negotiation.
Further, by far the greater proportion of PhD graduates (~70-90%) will fly the Academy and succeed in roles across very varied industries and business sectors, moving from the research setting to new and exciting work environments. Awareness of the range of options, of the translatability of their research-honed skills, and of techniques for career planning for a range of options must be added in to the development portfolio of our research staff and students.
This is a huge responsibility to conceive of, and to deliver, so who is responsible?
Who delivers researcher development?
Universities have adapted in parallel with these changes, making provision and defining policy that will support researchers to succeed. The role of the Researcher Development Professional is evolving to ensure that we can support our researchers to be successful in these new elements of their practice and their careers. Researcher Developers are also increasingly being expected to show value for money by demonstrating the impact of our work; to contribute to the development and implementation of institutional research strategy and policy; to juggle generic and specialist programmes; and to work across institutional and national boundaries through cohort funding models (e.g. Doctoral Training Partnerships, Centres for Doctoral training, Innovative Training Networks).
The role of the Researcher Developer, and the expectations placed on us are rapidly expanding. I, along with my colleagues – Dr Rob Daly and Dr Steve Hutchinson, felt it was the right time to gather together the practices and the experiences of a large number of our expert colleagues across the sector. We wanted to review what has been achieved in the 10 years since the 'Roberts' Funding' was divided out to spark development programmes across the UK. We wanted to take the time to think critically about how we could move our practices into a new phase. Our edited collection, 53 ways to enhance researcher development (published by Frontinus Ltd) does just this. The contributors to the book have all provided practical strategies, drawing from their experience as practitioners of doctoral, post-doctoral and academic education. We have drawn together ideas from those who support research and researchers across several continents, and so people in all types of institution should find this useful for getting to grips with developing people as researchers.
It is important to remember that effective researcher development is the responsibility of whole institutions. A comprehensive and cohesive framework of activities must be brought together, supported and delivered by far more people than those occupying formal Researcher Development roles. Many groups of people across Higher Education Institutions have an interest in and a responsibility for supporting the development of our research staff and students. Successful development approaches must think beyond 'trainer' and 'workshop' and include a broad range of official and unofficial partners in development. This includes the researchers themselves and their closest allies, the academic staff in their positions as Principal Investigators and Doctoral Supervisors. Academic Developers, Staff Developers, Careers Professionals, Research Office staff, and Research Centre Mangers and more can also play a formal development role. Wider, networks of Alumni, bloggers, the Twitterati and other virtual communities can offer support.
I hope the book we have put together will then encourage you to think creatively about how you can engage those people and groups suggested above in the creative researcher development that goes beyond the classroom, beyond the workshop, and beyond the Academy.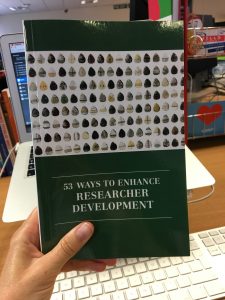 What are the 53 ways?
The book is a collection of 53 individual ideas, activities models or concepts, and each is written as a story in itself. These individual ideas are collated into 10 chapter clusters under different themes and the whole book is intended for dip-in-dip-out reading. The first, 'Researcher development in context' sets the scene for the activities and ideas that follow, discussing the policies, frameworks and philosophies that underpin the work we do. In Chapter 2 we define the 'Fundamentals of researcher development' taking a holistic view that stretches from engagement to evaluation. Chapter 3 'From novice to professional researcher' acknowledges the development journey as continuous self-reappraisal and identity growth, and asks how we can support researchers to build confidence. The theme for Chapter 4 is 'Developing effective communicators' and covers writing and presenting research. In Chapter 5 the value of 'Peer learning and support' is acknowledged and learning from mentoring programmes is shared. We move to external facing ideas in Chapter 6 'Development through external experiences' and take a look at researcher internships, placements and as consultants in their local communities. Chapter 7 'Supporting career development' gets to the heart of career planning covering how benchmarking, appraisal and promotion can be shaped to be developmental. Chapter 8 covers in 'Programmes for special purposes' covers how we have interpreted national initiatives for local contexts. In chapter 9 'Extending your reach' we look at connecting with new groups, new nations and through virtual means. To round off the book we reflect the career development needs of the Researcher Developers themselves examining our effectiveness, and our credibility as a group of sector grown experts.
53 ways to enhance researcher development enables staff developers to gain insight into what developing people in research practices is all about. It will support anyone with an interest in development to enrich their approaches, innovate to enhance and embed educational value, and to do more with limited resources.
Dr Kay Guccione works at the University of Sheffield, England, where she specialises in the evidence-led design of mentoring and coaching services for researcher education. She is a Senior Fellow of the HEA and a Masters qualified professional Coach, and recently became a Senate Fellow for Excellence in Learning & Teaching.
Dr Rob Daley is an academic developer at Heriot-Watt University, Scotland. His role includes researcher development, teaching development and quality assurance activities. He chairs the UK Council for Graduate Education Postgraduate Student Experience Working Group and is a UK reviewer for the HR Excellence in Research award.
Dr Steve Hutchinson is a consultant, coach, trainer and author who works across Europe. He has been at the forefront of academic and researcher development for fifteen years and works with a range of clients, specialising in leadership, communication and personal impact.