Avenues for professional development
by Contributor July 26, 2017 8:25 pm0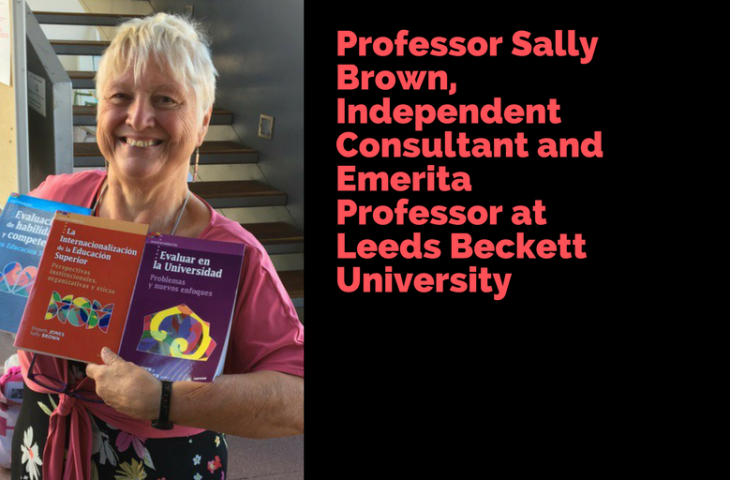 Avenues for personal and professional dev­elopment for profess­ional support staff
Why do we need continuous professional development?
Universities are rapidly changing work environments and everyone who works in Higher Education needs to keep abreast of developments if we are to do our jobs well.  Increasingly many universities clearly express in their strategies that they expect all staff to undertake regular and effective professional development both in relation to teaching and research. This blog is based on Chapter Seven of the new book I've written with Kay Sambell and Linda Graham entitled Professionalism in practice: key directions in higher education learning, teaching and assessment to be published by Springer International in July 2017. See Professionalism in Practice – Springer https://link.springer.com/book/10.1007/978-3-319-54552-3  Here I argue that there are many avenues for undertaking personal and professional development, and not all of them  require you to seek funding or permission from your employer!
Why isn't CPD always successful?
Many HEIs offer a full range of CPD activities for staff of all categories, but there isn't necessarily high take up for them or full appreciation of their value. It usually fails to have high impact if not carefully planned and tailored to fit actual personal and institutional needs. Professional development requires a number of factors in order to be successful: there needs to be a genuine need for development, advocacy by a well-informed and evidence-informed change agent who has a clear vision of the quality enhancements that need to be made, institutional recognition of opportunities for improvement, and, most importantly, buy-in from those people who are being asked to change their practices. It should be seen as a process rather than a series of events and can take many forms, including self-directed ones, which are the basis of this blog.
Events live and virtual
Excellent CPD events are provided for professional staff by a range of organisations including the Staff and Educational Development Association, (SEDA), the Society of College, National and University Libraries (SCONUL), the Chartered Institute of Library and Information Professionals, (CILIP) the Association of University Administrators (AUA) and others who offer diverse events, including conferences, workshops, networking and other opportunities. These are so accessible and well-publicised, but I won't cover them here since while such events are often productive and rewarding, staff may find it difficult to gain funding and time-release to attend them. I argue here that much activity can be self-directed and can nevertheless be highly developmental.
Something that is fee-free, informal and fun is the weekly Tweetchat #lthechat every Wednesday night between 8pm and 9pm GMT  which involves around 150  (mainly university) staff and others meeting online in a quick-fire discussion of current issues including, for example,  retention, student support, skills development and (often) teaching, learning and assessment matters.
These Tweetchats are facilitated by a different weekly expert, who gets conversations going with six  prompt questions (Q1-Q6) which are tweeted at a rate of one every 10 minutes, with participants responding by including the hashtag and prefacing their responses with A1-6, so it is clear which question they are answering. Tweeps (as Twitter users are sometimes called) join in from around the world and high levels of concentration are necessary to keep track of multiple conversations happening across the virtual community. It can be an invaluable source of up-to-date links, journal articles and websites and a real benefit is that as there is involvement from people across the HE community, it is non-hierarchical and all contributions are valued. The convenor usually provides a Storify compilation of all tweets shortly after the event, so people can back-track to review ideas and pick up links and resources that they were too busy to note while engaging.  I have also been made aware that the SDF runs a monthly Coaching Tweetchat (returning on September 2017 after the summer break) in which coaches meet and discuss relevant topics of interest, for example developing a coaching network, coachability and other topics of value for coaches working in the HE sector. If you do not yet use Twitter for professional purposes, look out for the Ten Days of Twitter courses (10DoT), originated by Helen Webster of Newcastle University (@scholastic_rat) through which you spend 10 minutes a day over a fortnight learning basic and advanced Tweeting skills.
Others make wide use of free virtual events, including those run by the Higher Education Academy (HEA) and, for example, the really useful 'Transforming Assessment' webinars run by Matthew Hillier of Monash University, see transformingassessment.com
Many also use specialist mailbases to keep themselves up-to-date about matters in the news, including those run by SEDA, HEA, the Heads of Educational Development (HEDG) and others. While some of these are closed lists for subscribers, others are open and can be one of the best ways of getting to grips with trending topics.
For those who regard themselves as HE policy 'wonks', the best UK information source around is Wonkhe: you can sign up to their free Monday morning weekly briefing at briefing@wonkhe.com or subscribe to their daily paid-for updates, as well as attending their events. In my experience, Wonkhe are normally the first at getting breaking news out about UK HE matters and offer detailed and comprehensive analyses of the hot topics of the day.
Mentoring
For many the most accessible form of personal development is working alongside mentors. This is a crucial means by which staff can be inducted into new work contexts or procedures and experienced staff can share their hard-won expertise.  For me as an early career Quality Enhancer, having a sage and well-connected mentor was invaluable. While many universities have formal mentoring schemes, a substantial amount of mentoring is done informally by colleagues. Mentoring is not just for early career university staff: mid-career colleagues seeking to advance their careers or who are keen to change roles can benefit greatly from finding a more experienced colleague or one working in a very different role, who can smooth the passage of the noviciate into new occupational pathways (Benzies and Mowat, 2012). Mentoring works particularly well if it is a partnership, where both partners benefit to some extent. At its best: "Mentoring is a power-free partnership between two individuals who desire mutual growth. One of the individuals usually has greater skills, experiences, and wisdom" (Weinstein and Miller, 2000, p.4). Benefits for mentees include:
learning from role models;
having intense conversations about HE matters;
being pointed in the direction of useful scholarly literature to support development actions;
shadowing the mentor in committees and working groups, to build confidence about university systems and approaches;
being introduced to influential colleagues and helped to enter key professional networks that provide a community of practice which could outlast the mentoring arrangement;
working alongside your mentor on a wide range of tasks that extend well beyond the original job description;
being encouraged to question and progressively challenge her mentor;
gaining the confidence to see oneself as equally capable of undertaking a senior role.
There are substantial benefits for mentors too, (which is why I still do it) which include:
being kept grounded in terms of ordinary university teaching and quality practices and the demands on everyday colleagues that can be forgotten once a senior management role is achieved;
having the pleasure of seeing colleagues grow, thrive and succeed through her agency;
being able to access to a wealth of new (sometimes left-field) ideas, and certainly the stimulus of fresh perspectives;
having progressively more capable colleague who can step in, step up and ultimately step past the mentor, taking responsibility for a number of key areas;
the opportunity to 'pay forward' for the extensive mentoring support I received earlier in her career.
To make mentoring work well, there must be clear ground rules, for example, about who will initiate contact for meetings, how often conversations should take place, what kinds of issues would be covered in mentoring sessions, how long the mentoring relationship might be expected to last and (if the mentor is to be able to share expertise more widely) how the mentoring relationship might transmute into a different kind of collegiality (although in practice many mentoring relationships become long term mutually supportive friendships). Each mentoring relationship is different, but to work well, they must be based on mutual trust, with a recognition that candid conversations are not for sharing more widely by either party. Many mentors find the mentoring role is one of the most fulfilling in their later careers, and mentees in successful working relationships report long term and sometimes life-changing benefits.
Self-development through independent or shared reflection
Many with limited access to formal support benefit greatly from periodic, systematic reflection on day-to-day work. Some use public blogs, others keep informal, personal diaries (or anything in between) to note and reflect on personal progress and development, perhaps over a year's space of time, not just recording events and actions, but analysing the factors that led to success or setbacks. A typical reflective framework might include questions like:
What was the context?
What problems/challenges/issues did I face?
How did I feel at the time?
What did I do?
Why did I choose to do what I did?
What theoretical perspectives/ literature in the field/ expert knowledge informed my rationale?
Who was helpful to me in making the decisions I did?
How did matters turn out?
What would I have done differently, looking back on the situation in hindsight?
What would I do in similar situations in the future?
What personal lessons have I learned for the future?
Even such a simple framework can be enormously helpful in helping one to make sense of events at work, particularly if a constraint is put on the length of each section of maybe 100 words, to stop oneself going on at length about a particular matter (often the problem!).  The purpose of reflection is to turn a mirror on one's own situation and actions, and the act of writing it can be highly thought-provoking. For those who have a mentor, a reflection using such a framework can be invaluable in shaping the agenda for productive conversations, and can save a lot of time in scene-setting, which can be invaluable if your mentor (like all the best ones!) is a very busy person.
References
Benzies, A. and Mowat, E., 2012. Everyone needs a mentor? The SEDA PDF Award in Mentoring and Coaching. Promoting research and scholarship amongst HE in FE lecturers, p.14.
Weinstein and Miller, 2000, Mentoring for success. West De Moines IA American Media Inc.p.4
Sally Brown
Sally Brown enjoys life as an Independent Consultant and Emerita Professor at Leeds Beckett University. She is also Visiting Professor at the University of Plymouth, the University of South Wales, Edge Hill University and at Liverpool John Moores She is a Principal Fellow of the Higher Education Academy, is a Staff and Educational Development Association (SEDA) Senior Fellow and a UK National Teaching Fellow. She has written/ edited more than 35 books on learning, teaching and managing in Higher Education, including, in 2009, Beyond bureaucracy: managing the university year, London: Routledge (with Steve Denton) including chapters from many colleagues actively engaged in the Association of University Administrators.
Twitter @ProfSallyBrown Website sally-brown.net Email s.brown@leedsbeckett.ac.uk