Towards Maturity Benchmark
by Contributor June 20, 2017 9:13 pm0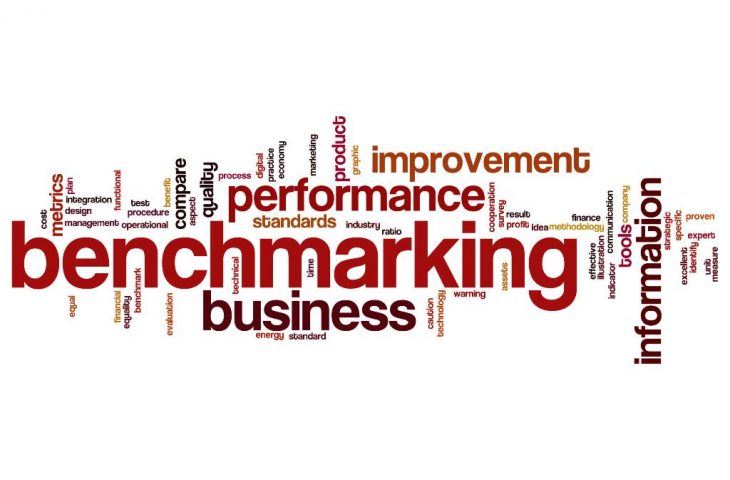 Is the Benchmark right for your organisation?
Complete the benchmarking exercise If you've not taken part in a TM Benchmark before, here are 10 questions to help you decide if it is right for you.
What is benchmarking?
Benchmarking is the process of comparing your business processes and performance metrics to industry standards and/or good practices from other industries.
Benchmarking can be done either formally or informally. Informal benchmarking is usually a process of reviewing by attending conferences, making simple comparisons and learning about good practices from the case studies from others. This is a partially effective way of reviewing current practices in order to refine learning and development, but lacks the potential for dramatic improvement in comparison with formal benchmarking.
Formal benchmarking is a systematic approach used to compare an organisation's performance with the top performers in their field. This provides a host of insights into different areas of learning and development within an organisation, identifying weaknesses and strengths as well as an overall indication of L&D efficiency. The Towards Maturity Benchmark remains the only free, independent and confidential formal benchmark process available to learning and development professionals to date.
Why Benchmark?
Building the skills and talent of employees is a fundamental pillar of business success. Learning innovation, done well, has the potential to support business agility and competitiveness.
Businesses have been benchmarking since the early 90's, in order to develop new direction and improve performance. Since 2003, Towards Maturity has been applying good practice benchmark principles to help L&D departments do the same.
The Towards Maturity Benchmark provides a unique opportunity to:
➔ Review ​your progress and approach
➔ Compare ​your results and approach with your peers and top performers in the field
➔ Act ​on the results to improve your performance
How does it work?
By taking part in the Benchmark, you review your approach against the Towards Maturity Model ​and reflect on your current benefits via an online survey.
We use this information to place your organisation on the Towards Maturity Index​, which helps you to establish a baseline upon which you can build your practices. The Towards Maturity Model We have identified six workstreams of effective practices which collectively entwine to help improve learning innovation and impact in the workplace. These workstreams, known as the Towards Maturity Model, form the basis of our underlying benchmark process. The behaviours in the workstreams are reviewed annually with industry subject experts and practitioners.
The Towards Maturity Index
The Towards Maturity Index (TMI) is the single index figure from 1 – 100 that each participant in the Benchmark Study receives on the maturity of their strategy against the six workstreams of the Towards Maturity model (see below).
The Personalised Benchmark Report is completely confidential and provides L&D professionals with evidence that can help:
➔ Set a personal baseline today to help demonstrate progress tomorrow
➔ Increase staff engagement and results
➔ Learn from common mistakes rather than making them
➔ Justify an investment or proposal for change
➔ Quickly apply industry good practice in a way that is relevant to your own organisation
➔ Set 'SMART' targets in your business plan, based on trusted industry metrics
➔ Motivate your team to become industry pioneers
➔ Provide an external perspective to help engage stakeholders with new ways of learning
Who should take part in the Towards Maturity Benchmark?
This study is aimed at learning and development professionals responsible for implementing innovative learning and performance solutions in their workplace.
Organisations across the private, public and not-for-profit are all welcome to take part. Examples of participants from previous years include: AXA UK, Boots UK, Brambles, BT plc, Cerner Corporation, Coca Cola Amatil, E.ON AG, Great Ormond St Hospital, Lloyds Banking Group, McDonald's, River Island RMA Group, 33 councils and over 20 hospitals and NHS trusts.
Whilst aimed at those implementing innovation in the workplace, educational institutions and providers are welcome to take part to either review their own learning approaches with their own staff or to review a particular implementation with one of their customers.
What are the benefits of benchmarking?
In addition to providing a time to reflect on, benchmarking also provides you with independent evidence that can help you:
● Set a personal baseline today to help demonstrate progress tomorrow
● Increase staff engagement and results
● Learn from common mistakes rather than making them
● Justify an investment or proposal for change
● Quickly apply industry good practice in a way that is relevant to your own organisation
● Set 'SMART' targets in your business plan, based on trusted industry metrics
● Motivate your team to become industry leaders not followers
● Provide an external perspective to help engage stakeholders with new ways of learning
What are the practicalities of getting involved?
Taking part in the Benchmark Study is easy; it takes approximately an hour to complete the process online. It can be completed by individuals, or as part of a team exercise. Once completed, participants immediately receive complimentary resources and are sent a Towards Maturity Personalised Benchmark Report on completion of the data analysis.
All participants will also receive a copy of the annual Industry Benchmark Report when it is released in November each year.
What will I find out in my Towards Maturity Personalised Benchmark Report?
Your confidential personalised report provides you with the following information:
● Your Towards Maturity Index
● Key Performance Indicators
● Scores across 19 activity areas, highlighting strengths and weaknesses.
In each section, you will be able to compare your responses with average scores and the TM Benchmark. If your score is greater than the TM Benchmark, then you are in the top quartile for performance or implementation practice.
What kind of results can I achieve through benchmarking with TM?
Organisations in the top 10% ( the Top Deck) are achieving significantly higher impact than average – but importantly, they are more likely to using benchmarking to improve their performance. When compared to the rest, the Top Deck:
● Identify specific business metrics/KPIs they want to improve through learning in partnership with senior management (79% vs. 31% of the rest)
● Benchmark our learning strategy and practices against other companies in our industry (51% vs. 21%)
● 50% more likely to agree staff understand how their work is linked to the organisation's performance (85% vs. 54%)
● Twice as likely to agree their business leaders recognise that learning is aligned with the business plan (97% vs. 37%)
Top quartile learning organisations both exhibit and help us to define what we understand by effective practice. Organisations in all sectors and of all sizes fall into this top quartile and throughout this report we have included observations from them on how they are driving business performance.
How much does it cost?
Once a year during June and July we collect data to establish new baselines, and during this time, an organisation can participate for free, thanks to Towards Maturity's Ambassadors (over 25 leading learning organisations that fund our existence). They work together as ambassadors for change; identifying and improving best practice, raising awareness and driving the whole learning industry forward.
We also support organisations who want to use the benchmark outside of this period or who would like to use it to establish a tailored benchmark across a number of participants within their own business. Please contact us for more information about process and fees.
Why choose Towards Maturity?
Through our benchmarking process, Towards Maturity brings independent evidence to the learning and development industry that helps L&D professionals make better decisions. This is achieved through a process of L&D professionals reviewing their current technology-enabled learning strategy, comparing their approach with peers and then acting to improve the results they are able to deliver back to the business.
The Towards Maturity Benchmark is considered one of the most comprehensive independent reviews of how organisations are establishing successful e-enabled learning strategies in the workplace. Its performance indicators and effective practice benchmarks have been refined through the participation of over 5,500 organisations and 35,000 learners around the globe. Since 2003, the findings have been used by L&D organisations around the globe to track progress and improve performance. The study is constantly kept up-to-date through wide industry collaboration with our supporters.
The ongoing study has distilled the effective practices of top performers into a framework of 6 implementation work streams – the Toward Maturity Model. The Towards Maturity Index provides a single-figure insight into how organisations fair against this model. By taking part in the Benchmark, organisations may review their learning approach against the Towards Maturity Model and reflect on current benefits.
Since 2003, the Towards Maturity Benchmark Study has investigated how organisations are embedding innovative learning practices and the impact they are having. Historically, we have tracked how organisations use technology to support both formal and informal learning, and have now identified a range L&D approaches that influence success that go far beyond the technologies involved.
The Towards Maturity Benchmark Study is a result of a unique industry collaboration. The Study would not be possible without the contributions of Towards Maturity's Ambassadors, who make this study possible as they share a passion for ensuring that independent advice is freely available to all.
What about confidentiality?
Towards Maturity operates a strict confidentiality policy to protect participants in our Benchmark research. We do not share any individual's data with any third parties, including our trusted partners.
Our research readers like to know about the organisations who have participated in a report, but we only list the names of organisations who have explicitly given us permission to name them. The participant list is included in the appendix so that data in the report cannot be traced back to individual participants.
Find out more about our confidentiality policy here.
Who can I contact to find out more?
If you want to discuss benchmarking with your peers, you can join the LinkedIn group, New Learning Benchmarks. Alternatively, contact us at hello@towardsmaturity.org if you have any specific questions.