How to do Action Learning
by Contributor April 14, 2017 8:49 pm0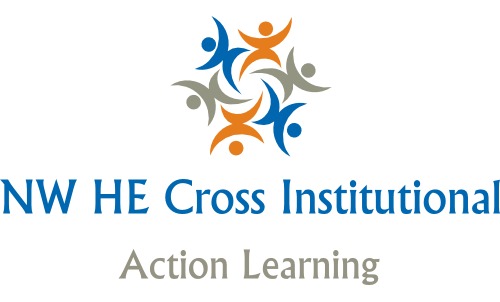 New resources on how to do Action Learning
North West Cross Institutional Action Learning project team has produced a wealth of resources on action learning. This page showcases a series of videos and transcripts. This project is funded by the Leadership Foundation for Higher Education.
Action Learning provides a methodology for tackling intractable work placed issues. It is a process that has challenge, support and skilful questioning at its core. As its name suggests
Action Learning is about "doing" and reflecting on the learning taken from the action taken. Where effectively implemented it is an extraordinarily powerful process.
How does Action Learning work in practice?
Challenge 1 – Establishing Trust and confidentiality, Annette Robinson
Transcript:
One of the issues that we first recognised with the first cohort was around the building of trust and    confidentiality. Although we did set generic ground rules we didn't spend a lot of time interpreting these and discussing them with individual set members. We also realised that some group members are immediately comfortable being open with the group whilst others are more reserved and would have benefited from more time spent on introductions and getting to know each other better. With the second set we still set core ground rules but then we spent a lot more time with the individual sets discussing how these were interpreted and agreeing common understanding with the group members. They also agreed any additional ground rules that they felt were important to them as a group. We also spent time on introductions; all the group members were asked to bring something with them that said something about them. This allowed everybody to share something that was either important to them either professionally or personally and that really helped them to build trust. We found that by making these changes and by using trained and experienced facilitators really helped to create a safe environment where colleagues where really comfortable in sharing their problems.
Challenge 2 – Attendance and Commitment, Gemma Edwards
Transcript:
One of the challenges we faced was with commitment and low levels of attendance and set members not letting the facilitator or other set members know that if they wouldn't be able to attend. The way we organised the first cohort was to have the introductory session and first meetings all at the same venue.  However, for subsequent meetings they each took place at one of the participating universities. On some occasions only one or two set members attended which was really disappointing, especially for those who'd attended and brought an issue but had no one to present it to. We were obviously aware that things crop up for people they can't anticipate at the start but as facilitators we felt that perhaps there was not a high enough level of commitment or priority given to the programme or the needs of other set members. We've learnt from the challenges we faced with the first cohort and made some changes to the programme to overcome them. We stated in the promotional material that if set members couldn't commit to attending at least three of the four meetings then perhaps they shouldn't attend at this time because they wouldn't get the full benefit from the programme. We've also changed the format of the meetings so that now all meetings take place at the same venue so that if sets have low numbers they can be combined together. We really emphasised the commitment and priority that should be given to the programme, the consideration of the needs of the other set members and the awareness that if someone doesn't attend a set it is not just their learning experience that is affected but it also has an impact on others. We also asked each set to agree their own ground rules for working together which included the level of commitment required and how to inform the rest of the set if they were unable to attend the meeting.
Challenge 3 – Communication, Tracy Ellis
Transcript:
It was important to create a central communications point for the cross institutional action learning programme. The challenge with creating this on a single university server is one of access and editing rights which would restrict the ability of facilitator contribution.  We also wanted to demonstrate that the programme was indeed a joint venture and not owned by a particular university. For these reasons we opted for a Weebly website.  This is a free website creation tool that enables you to create really professional websites with very little technical ability. Our website includes; a registration form for prospective set members, diary dates, venues and links to maps, a set of resources to support both facilitators and set members and an evaluation form to assess the effectiveness of the programme.  I would definitely recommend this approach to others who are setting up a similar programme.
Challenge 4 – Expectations of Facilitators, Meriel Box
Transcript:
One of the challenges we found for facilitators was that it was essential to establish ground rules right at the beginning and agree these with the action learning set participants. Another challenge was that participants wanted to give advice and tell whoever was presenting the issue what they should do so the facilitator needed to stop the proceedings and explain to the participants what the principles again where for action learning and get them to follow those principles and not give advice as much as they wanted too.
Challenge 5 – Expectations of participants, Meriel Box
Transcript:
One of the challenges in terms of expectations of participants was that they were frustrated that they couldn't give advice when they wanted to. So we found that as a facilitator we needed to make sure we spent sufficient time getting the participants to practice using the open questions – the type of questions that you would need for an effective action learning process. Another thing that was frustrating for the participants sometimes if the facilitator didn't establish clearly they only had fifteen minutes to present the issue so it was really important in order to manage the expectations of participants that the facilitator managed the whole set and gave equal air time to whoever was presenting their issue.