What can a story do for learning?
by Contributor May 8, 2019 3:33 pm0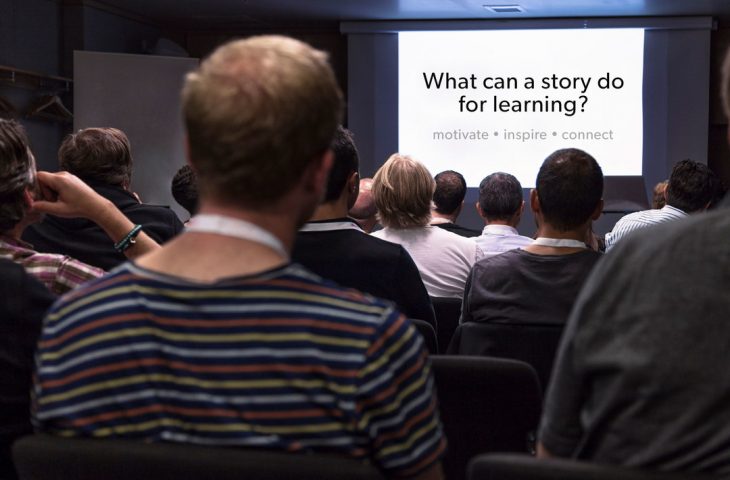 What can a good story do for Learning?
This is the question that opened a recent workshop that was being held at a leading UK University. In the room, we had academics, faculty managers, marketing specialists, specialist researchers and a couple of PhD students. Their answers?
Enhance motivation – a story can help lift energy and connect us to learning.
Community – a shared story is foundational to a cohesive community of learners.
Greater influence – a great story can elevate an idea or theory.
A sense of connection – a story can deeepen our connection the course material.
Greater meaning – a story can make what we are learning much more meaningful, stories can help us make sense of things.
Enriched design – story structures can enhance the design of any lecture and learning event!
Inspiration – a good story can inspire and reframe challenging situations.
They already knew this! Everyone in the room, without exception, had multiple insights into the power of story in learning. What was missing wasthe know-how of identifying, crafting and sharing those stories, and this is what this workshop is all about.
Participants were introduced to the 'Menu of Stories'. On this menu are the five stories that, if we can master, will support every aspect teaching practice. What is on the menu?
ME Story – you can choose to tell a story about you, about a breakthrough, a triumph, or perhaps a tragedy that helps students identify with you and your motivations.
WE Story – you can choose to tell a story about the university, the department, previous cohorts, stories that share learning, insights and set the bar .
IDEA Story – you can choose to tell a story about the history idea was conceived and how it evolved, and perhaps were you want to take that idea next.
RESULTS Story – you can choose to tell a story of data, numbers, or the learning and insights are impacting upon the world.
INSIGHT Story – or you can choose to tell a traditional story, a story that has been refined and developed over hundreds (perhaps thousands of telling's) that hold enduring and empowering wisdom.
The driving belief of the workshop is that if you can comfortably choose from this menu and stand-up and share your story then you will be able to motivate, influence and inspire your students. So that's what we did, everyone chose one story to tell from the Story Menu and then we got to work crafting and developing them, and everyone got to share their story.
At the end of the day, someone said this was a 'fantastic course' another 'the best course I have been on' and one even shared 'I loved this course – doing something different and creative reminded me to use a different set of skills in my teaching practice'. The course rated 100% Excellent overall and 100% agreed all learning objectives had been achieved.
If you would like to know more about this workshop then please be in touch.
---
Steve Creffield – 
why change when you can evolve?
If you would like to discuss a potential Storytelling in Learning Session, please contact Steve Creffield on 01373 471156 or email steve@evolveintegral.com
This article was originally posted here