Exploring the Impact of Coaching
The latest publication from the Leadership Foundation considers the impact of coaching.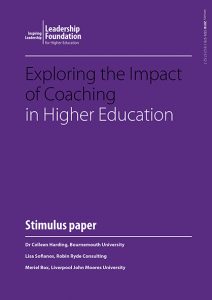 The growing use of coaching to support the development of staff in universities requires a significant investment of time and money, and yet the practice of evaluating the impact of that investment appears to be spasmodic. Higher education does not appear to have fully explored the value of coaching or the tools to evaluate it. Through this stimulus paper, the authors Dr Colleen Harding (of Bournemouth University), Meriel Box (of Liverpool John Moores University) and Lisa Sofianos, (an associate to the Leadership Foundation) aim to fill that gap. They begin by presenting a snapshot of the ways in which coaching is used, valued and evaluated in higher education and have used these findings to develop a series of provocations to provide thought leadership and debate within the sector, specifically on how coaching is evaluated.
This Stimulus Paper is available online here: Exploring the Impact of Coaching in Higher Education