A short story about the Staff Developers Conference
by Contributor December 12, 2017 7:43 pm0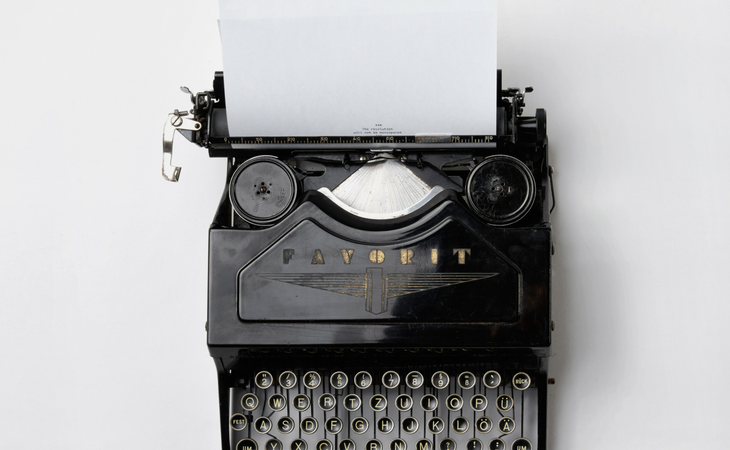 A short story about the Staff Developers Conference
By: anonymous (or scroll to the end)
Two weeks ago to the day, delegates were bidding their sad goodbyes to the twinkling lights of the Hyatt and the warm friendships of the SDF conference. Two full-to-brim, action-packed, non-stop days were over. They were nearly as exhausting as that sentence. But both of those days were brilliant indeed.
This is a short story about the Staff Developers Conference through the eyes of one of the exhibitors. (We won't say who so you have to read to the end, or of course you can scroll straight down if you are one of those who needs to rattle the present before you open it!)
This is a story about connections (new and old), understanding, curiosity and narratives.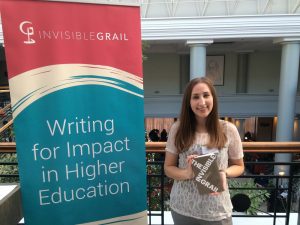 Connections
We were a stand of two people. We knew a few people attending already – some by name only, others very well, and some not at all. Significantly for both my colleague and me, this was a chance to meet, for the first time, people we had been speaking to (in one way or another) for a couple of years now, and to do this in person, with that ever-present cup of coffee. It was well worth the wait.
Understanding
I suppose our mission, if you can call our informally relaxed approach, was to understand what are the challenges facing staff developers right now. And to understand how we could help.
As a member of this network, I've no doubt that you won't be a stranger to any of the challenges that came up: dealing with an increasingly target-driven culture; having a remote and distant SMT; demotivation; needing a refreshed and energising narrative; organisational restructures; (constant) change; demonstrating impact. These are a snapshot of the themes that popped up during our conversations.
Curiosity
There is of course no one magic cure or fix-all answer that we can give. However, the curiosity and faith just to ask 'how would you approach this?' is undoubtedly the beginning of actively taking on these challenges. And just having that modicum of curiosity, that little voice telling you that there's more to know here than what you currently have – that is part of the essence of what we stand for. And I believe and I'm sure you'll agree, it is also an essential part of professional development.
Narrative
And so, the fourth and final part of this short story: narrative. It cropped up more than once (in fact, like a growing mushroom, it just seemed to spread.) It is becoming more popular, this word. But what does it really mean?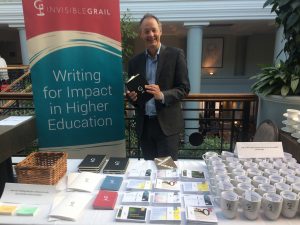 The trick to narrative is that is means something different to every person, BUT, it is the thing that bridges understanding from one person to another. So, whilst two people, or two groups, or say an academic and someone from professional services, might only see their side of the story, a narrative is what has the potential to bring their understandings together. Finding the right narrative can sway a person from a rigidly-held view, it can motivate and inspire where there has been inertia, it can punch above its weight when impact is called for, and it can change perception where there is a need.
So, in this whistle-stop tour of connections via understanding, straight on to curiosity and arriving at our destination of narratives, you may well have guessed our identity. We, Paul and I, attended the Staff Developers Conference as Invisible Grail (fortunately attending quite visibly, see our pictures).
And as with any good story, short or not, there is always a final point. Our final point, and perhaps the most important one, is to acknowledge how affirming it was to be surrounded by so many supportive colleagues who were so open in sharing their experience. We were overwhelmed by the interest and warm conversations. We met old friends, and made new ones. We are privileged to feel part of this community. So, here's to you, thank you.
We were delighted to be invited to share our experience of the Staff Developers Conference. In writing this piece we tried to bring a different approach to explain our experience. Not a cut and dry 'this is what we learnt', but to share some of the brilliant warmth of this community with a little bit of what we do. Invisible Grail is a new organisation championing the impact that writing and communication can have for everyone who works in higher education.
Biography
Louise Clifton, Director of Marketing, Communications and Operations at Invisible Grail
Over the last five years, Louise has crafted a career in marketing within the higher education sector, specialising in supporting the professional journey of people in the sector. In turn, this encouraged her to consider her own journey. So, in May 2017 she joined her former mentor and friend, Paul Gentle, to help launch Invisible Grail.
Writing hasn't always come naturally to Louise, so she can understand the trepidation of people that may be interested but cautious about Invisible Grail. But she has realised that the potential for writing, and communicating, is limitless. It is a medium through which we can, and should, celebrate our ideas, passions and voice.
Louise is Director of Marketing, Communications and Operations at Invisible Grail. Prior to this she was the Senior Marketing Coordinator at the Leadership Foundation, as the lead marketer for Aurora, Future Professional Directors and the Strategic Leadership Programme. Her professional writing includes co-authoring 'The Genie in the Learning Organisation?' with Paul Gentle.