City, University of London wins SDF Award 2017
by Rossana Espinoza December 10, 2017 8:41 pm0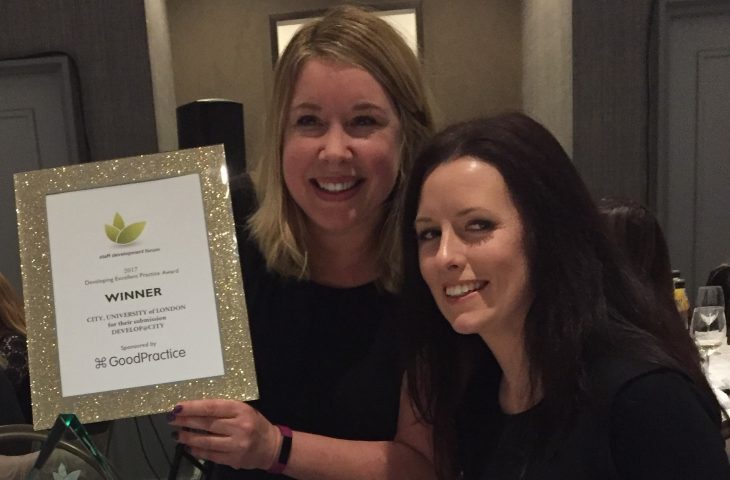 City, University of London wins Developing Excellent Practice Award 2017
The university has won the award which celebrates significant impact and collaboration to the Learning & Development/Organisational Development environment.
City, University of London was presented with the coveted award at the 2017 SDF Conference dinner on Thursday 29 November for their exceptional Develop@City project.
Launched on 27 July 2017, Develop@City was created as a portal to access to Staff and Organisational Development activity at the University. This project was a response to a staff survey which requested greater visibility around professional development opportunities and the need to feel valued for work regardless of job role or grade. The project went on to make a momentous impact to employee engagement at the university as an internal survey reported a 50% rise in staff commitment to providing excellent support and customer services to students and staff.
The judges led by Nick Gallagher-Hughes working with representatives of the SDF Committee, the Leadership Foundation and Good Practice commented:
"This is an inspiring initiative that strives to put L&D at the core of the University. Although it's in the early days, City showed clear evidence of immediate impact, and deserved to be recognised as an initiative that other institutions may wish to adopt."
**Video produced by City, University of London**
About Developing Excellent Practice Award 2017
The purpose of the award is to recognise and celebrate outstanding staff development individuals or teams. The award is part of the 2017 Staff Development Conference and reflects the over-arching theme of "Adapting learning in a changing higher education environment". The award is sponsored by Good Practice, who provide the Leadership Foundation with Knowledge Bank, which is a staff development online resource exclusively available to members of the Leadership Foundation.