#SDF2017 Conference Social Media Challenge
by Rossana Espinoza November 18, 2017 3:47 pm0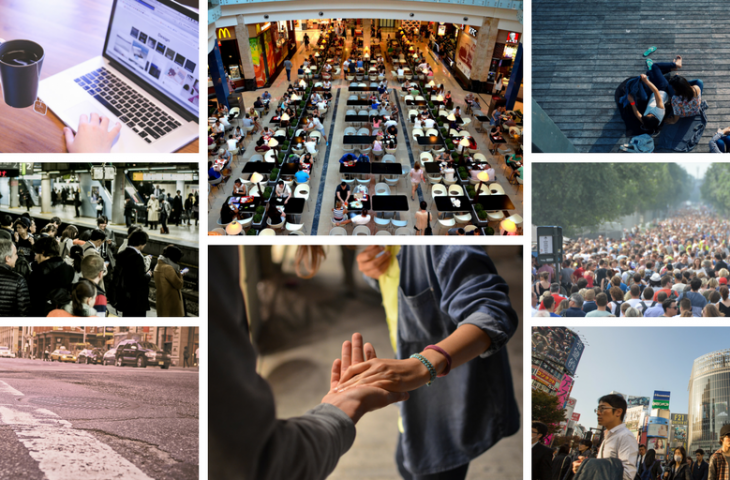 A social media challenge for the 2017 SDF Conference
Why a social media challenge?
The SDF would like colleagues attending the conference to enjoy all aspects of the occasion, share their learning, and benefit from others' shared learning as well. So… this year in #SDF2017 conference we would like to encourage a #confchallenge to encourage SDF conference-attendees to share their best notes, learning, and resources, and also meet new people by having a little fun!!! Are you game?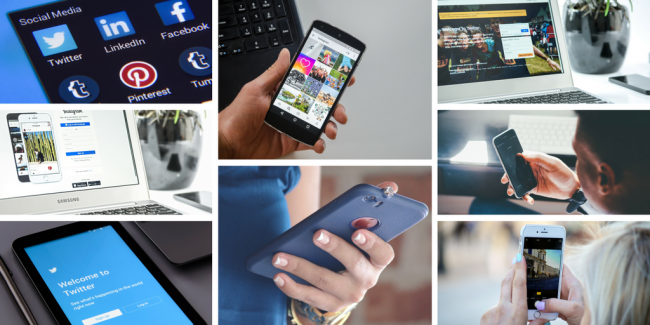 What tools could you use?
You may use Twitter,  Facebook, Instagram, or any other social media tool of your choice, as long as it provides the evidence of having completed and shared all (or as a last resort, the majority of the tasks). Surprise us!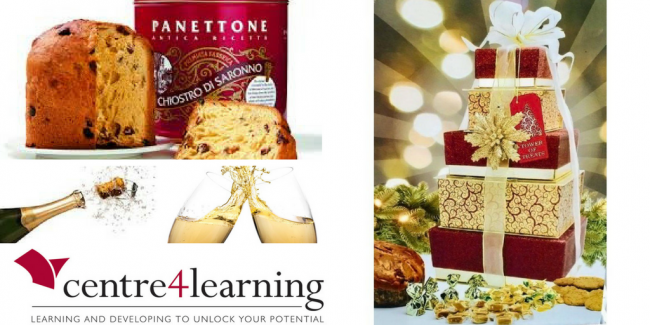 What will you get in return?
In addition to strengthening your social media skills, networking skills, learning about innovative practices, there are four gifts, so the first four participants that complete the challenge, please approach the sponsor stand of Centre4Learning during day 1 of the conference by 5:30pm and show Shyrose (Centre4Learning) and Rossana (SDF) what you have done.
Like in bingo, prizes will be awarded on 1) first come, first serve basis 2) completion/share of all tasks.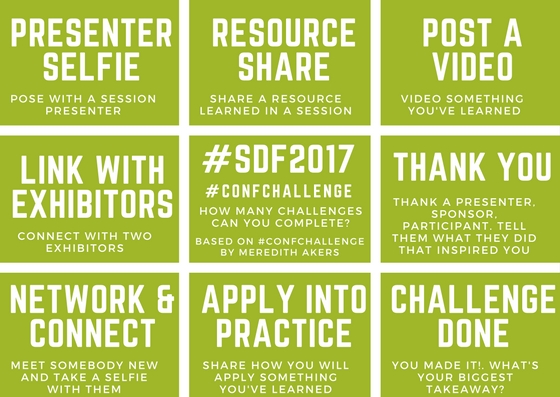 Click on the Conference Challenge picture to download in JPG format
Download Conference Challenge (PDF)
**final version to be during the conference**
How do you participate?
The #ConfChallenge card (see above) shows activities that SDF conference participants may complete during the conference to win one of the 4 gifts provided by Shyrose from Centre4Learning  (during day 1).
To cross a square on the card above, you will need to complete a task and tweet/post on the social media tool of your preference to show the evidence – adding the following hashtags: #SDF2017 and #ConfChallenge. In other words, this works like an online bingo card with no numbers but activities!
What are the instructions to follow?
You will receive a printed copy of the #ConfChallenge card with the SDF conference pack to help you cross out what activities you do.
You may save the #ConfChallenge picture above so that you can include it in your tweets or posts and other conference attendees are aware of what you are doing
Tweet  or post the #ConfChallenge picture on the social media tool of your preference.
Tag fellow attendees to extend the challenge
Include the hashtag of the conference #SDF2017 and #ConfChallenge in each tweet or post when meeting one of the challenges
Tag people in your photos, notes, reflections, favourite quotes, etc., so presenters, fellow attendees can see what you're posting and join in on the fun!
SDF in social media: @SDFACUK
2017 SDF Conference social media hashtag: #SDF2017
Conference challenge: #Confchallenge
Dr. Rossana Espinoza
Communications and Marketing Officer
@DrRossEspinoza