bright spot storytelling
In 2014 I was contacted by a research team who were in trouble. They had failed to secure funding on multiple bids and consequently were being threatened with closure. When they gave me a call they had already decided to organise a one-day retreat where they would review the failed bids and capture learning. They were looking for someone to facilitate the session because they intuitively knew it was going to be a tough session.
They were right, it would be a tough session, an unnecessarily tough session! How come?
A story of discovery
I first came across a concept similar to Bright Spot Storytelling in 1982, in the book Searching for Excellence by Thomas Peters and Robert Waterman. It turned my attention from looking at failure and figuring out problems to looking at success by focusing on what works rather than what didn't. The great mistake though, from my perspective, was to think that excellence in one team would immediately translate to another. It wasn't until nearly 10 years later when I came across Solution Focused approaches that I began to navigate a new path.  This path took me to the work of Jerry and Monique Sternin a couple who transformed the lives of millions of children in Vietnam using the Bright Spot approach that identifies solutions native to time, place and people (www.brightspotsculture.wordpress.com/the-original-story/).
No problem happens all the time!
The Bright Spot approach is grounded in the belief that 'no problem happens all the time' there will always be an exception (deviation) in a given context. There will be times when things work; when things flow, when people perform, when people get along, when meetings work, and yes, when bids secure funding. The invitation is to identify those times and go in search of the 'causes of the solution' rather than the 'causes of the problem' after all a 'detailed understanding of the "problem" is usually of little help in arriving at a solution.' (Jackson and McKergow, 2002)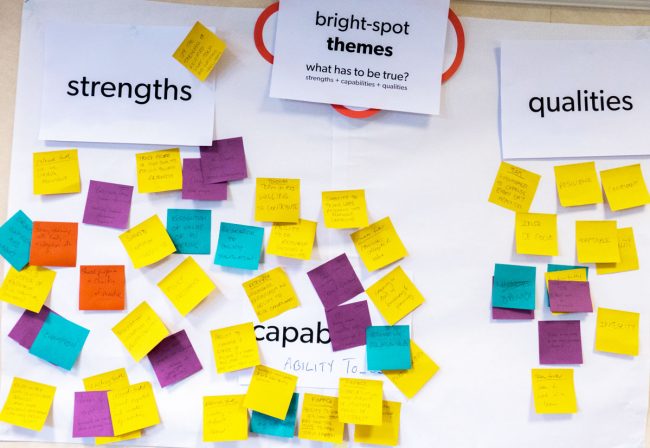 Solution focused conversations
Bright Spot Storytelling Sessions are designed to support people to have conversations that are focused on times when things work and work in the context where we want to develop. Crucially the sessions are focused and aligned to what we want to create rather than what we want to eradicate. The research team wanted to create 'successful bids' and so it was it was natural to ask the research team if any of the bids from the last 12 months had been successful? As expected there had been, with 4 successful bids! It was then natural to suggest that we use the retreat to focus on those 4 successes rather than the 12 failed bids. It was the story of these successful bids that we came together to share.
The retreat was a great success, not only did we uncover a number of small empowering and practical steps to take into the next bidding phase, everyone came away feeling appreciated, valued and focused on what they collectively wanted to create. This is what happens when people spend time sharing 'Bright Spot Stories' of what helps, what works, what empowers and what enables supportive action. The final step in the retreat was to identify practical actions and priorities to take into the next bidding process.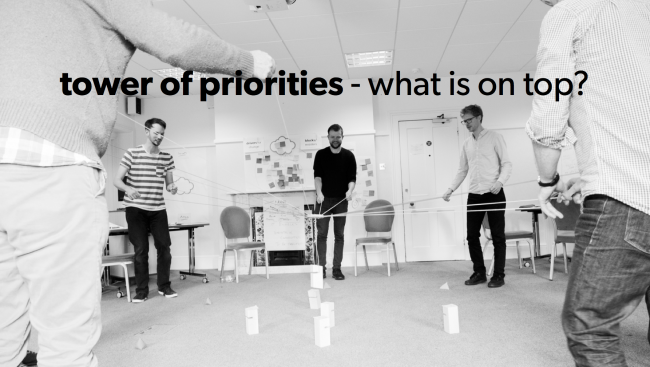 The alternative session?
Now contrast that with how things might have turned out if the team had focused on the failed bids! Imagine a group of people coming together to ask why they failed and what led to that failure? Where might those conversations have gone, what kind of impact might those conversations have had? This can be a classic pathway to blame, fault finding, overly focusing on the past and on what could have been, rather than facing what 'is' and what we can do next.
This for me, is the power of a Solution Focus, it doesn't mean we don't talk about failure, or problems, its about how we practically step forward from those moments. As Chip and Dan Heath write in their book SWITCH (how to change things when change is hard) 'finding bright spots solves many different challenges all at once, they give direction, enhance motivation and illuminate the way to the very next steps.'   
Where are the team now?
In 2017 this team are now sustainable. They have secured multiple streams of funding and perhaps more importantly they have developed a shared sense of purpose, direction, appreciation and focus.
This is what the Director wrote in response to the June 2017 check-in 'This process, which was tough at times, has reinvigorated the team, allowed us to communicate our purpose more effectively and resulted in a strategy which is not just a pretty document on the shelf but a set of processes we use on a daily basis to deliver results. Solution Focus and Bright Spot Storytelling is now in our everyday and working.'
During the retreat the bright spot stories helped the team to articulate their shared purpose and we used a solution focused (time travelling) process for helping them articulate their shared vision. What has been amazing is to witness how that vision for 2019 has become more and more of a reality today.

these post-its were crafted into their vision/destination statement
__________________
I have hosted Bright Spot Storytelling Sessions with teams across the education, health and international development sectors. These sessions have enabled teams to:
make progress on what seem like intractable/insurmountable problems,
uncover motivational values and team purpose,
build team cohesion and forward looking momentum,
re-invigorate and re-align teams during times of change and challenge
refocus meetings so they become places of resource (solution focused) rather than places of remorse (problem focused).
If you would like to discuss a potential Bright Spot Storytelling Session you can contact Steve Creffield on 01373 471156 or email steve@evolveintegral.com and there is also an online 2017-18 Evolve Prospectus at https://issuu.com/stevecreffield/docs/evolutionary_solutions_for_he_2017-
References:
The Original Bright Spot Story – https://brightspotsculture.wordpress.com/the-original-story/
The Power of Positive Deviance: How Unlikely Innovators Solve the World's Toughest Problems by Richard Pascale, Jerry Sternin, Monique Sternin (2010)
Switch: how to change things when change is hard by Chip Heath and Dan Heath (2010)
The Solutions Focus: Making Coaching and Change SIMPLE  by Mark McKergow and Paul Z. Jackson (2006)
In Search of Excellence: Lessons from America's Best Run Companies by Thomas Peters and Robert Waterman (1982)