How benchmarking can help you deliver impact
Learning professionals around the globe are hungry to deliver change. Whilst digitisation of learning is a must in today's fast-paced, digital and global workforces – just 19% of L&D budget is allocated to learning technologies. The pace of change is slow and with increased pressure to deliver, and quickly, benchmarking can play a significant role.
Benchmarking is the process of comparing your business processes and performance metrics with those of other organisations. The Towards Maturity Benchmark is considered one of the most comprehensive, independent reviews of how organisations are establishing successful learning strategies in the workplace. It takes around 60 minutes, it's entirely confidential and you'll receive many benefits from the process including a personalised report in September once all the data is collated.
This report will shows how you compare with peers and the actions you need to take to improve impact, with scores on 19 effective practices and insights to help you improve business alignment, increase learner engagement and make informed decisions about new models of learning, like 70:20:10.
Last year 84% of respondents said the process alone provided new ideas for improving their learning strategy. Brian Murphy, Head of Learning and Leadership Development at Citi said:
'The L&D team at Citi needed to reinvent how learning at Citi happens and modernise the L&D function – Towards Maturity's Benchmark gave us credible insights in order to deliver a compelling business case to C-suite of the company.
"The report was also a valuable asset when it came to awards – revisiting our Benchmark helped us track progress and hone our award submissions."
Review your learning strategy here.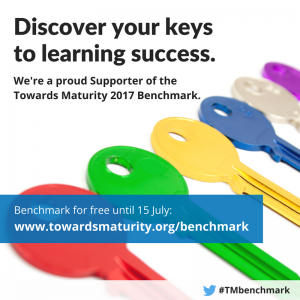 How can you use this evidence?
A benchmark provides the evidence you need in order to influence the business in regards to the learning agenda. Evidence is vital to backing up a case for change and even more powerful when internal data is being compared with data from top performing organisations. With the Towards Maturity Benchmark, you can see how your strategy compares with top performing organisations in your sector and shape your L&D strategy using tactics that work.
The benefits of benchmarking
Systematically benchmarking your L&D strategy with your peers helps uncover insights that will help you:
Modernise your learning strategy

Redefine priorities

Identify opportunities for development

Increase learner engagement

Save time and accelerate progress

Demonstrate value by providing evidence of progress
Participants that complete the review by 25 June will receive:
An invitation to an exclusive 'Beta Data' webinar with Laura Overton on 27 June, examining the insights so far – only Benchmark participants will be invited!
Entry into a draw to win a standard Strategic Review (£15,000 value)
A chance to win two tickets to our VIP preview of the findings and receive a printed copy of the report
All participants before 15 July will receive:
A free Personalised Benchmark Report (£300 value), once all data has been analysed
Access to exclusive resources on completion, including over 500 videos on leadership and resources from Ambassadors
Entry into a draw to win a webinar hosted by Towards Maturity CEO and Founder Laura Overton (£2,000 value)
A copy of the Annual Benchmark Report, prior to public release
What does the Towards Maturity Benchmark cover?
The Towards Maturity Benchmark asks questions that help you reflect your current L&D strategy/plan and think about the year ahead:
Understanding the context of your strategy

Goals and vision for your L&D strategy

Develop learning technology plans

Identifying barriers to transforming learning

Measuring the impact of your current strategy

Converting an L&D plan into tactics for success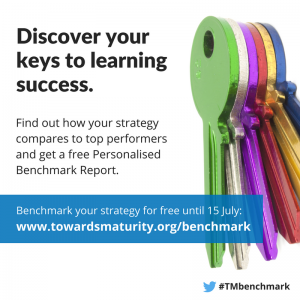 What you need to get started
You'll need to set aside 45 minutes to reflect on the areas above – you'll need longer if you plan on doing this as a team exercise, but you'll quickly realise that the time spent is well worth the investment
Some basic information on budget and team size is included in setting the context
Impact data on particular projects will be useful (but not essential)
"Taking time out to reflect, benchmark and talk to liked minded L&D experts is a must. L&D must develop greater business acumen to align with the needs of the changing and evolving world and workplaces that we are in." 2016 Benchmark participant
What else do you need to know?
1: You don't have to be perfect to get started – use the benchmark to establish a baseline and identify priorities
2: All data is confidential – see our confidentiality policy for more information.
3: You receive a free 21-page Personalised Benchmark Report in September that provides everything you need to formulate an action plan
At Towards Maturity, we have identified six workstreams that characterise successful, high performing organisations. From these workstreams, we have developed a common framework of effective practice.
Benchmarking against that framework helps L&D pinpoint the strengths and weaknesses of their own organisation, work out what needs to change and map out actions. In short, the Towards Maturity Benchmark is a structured framework that helps learning leaders under pressure identify the actions that will bring tangible results in the workplace. It helps you to work out how to get from A to B!
Review your learning strategy here.