Contributor's corner: Money to burn? Apprenticeship Levy 
I am sure that you are very aware that the apprenticeship levy comes into effect from April 2017 and if you are going to be a levy payer, which I am sure most of you will be, then you could be in line for a rather large 'tax' bill. I refer to it in this way as having had conversations with several Directors of Finance recently it seems that this is what many of them are calling the levy. As a Learning and Development specialist I have been very disappointed to hear levy being discuss as a tax to be written off, as it seems that many organisations who assume that they will be levy payers are not planning to capitalise on their levy pots at all, just write them off!
If you have been involved in even the discussions about recruiting and training apprentices you will understand that they aren't simple and can result in costing an organisation in excess of the amount of levy that could be drawn back down for training costs. For example you might incur recruitment costs, if you recruit through a training provider, and you will need to find the salary for the apprentice. This doesn't include the more hidden costs of administrating an apprenticeship scheme. So, are these Directors of Finance correct in their thinking? Perhaps, but there are many advantages to employing apprentices and taking advantage of your levy pot and ways to mitigate against extra costs.
The main cost being the apprentice's salary. This can be overcome in several ways including:
When recruiting any new post consider could it be an apprenticeship role initially. If so you would already have the salary costs as part of your establishment, and it doesn't have to be at entry level, as more degree apprenticeships are developed.
Offer already employed staff the option to participate in development programmes which consist of an apprenticeship, they would not need to change their title or T&C's and it could consist of training you would normally have offered to this group anyway, such as management and leadership development.
Quick win areas are mostly in the corporate roles as there are already Standards and Frameworks available for these, such as finance, HR, IT and admin. As your levy monies are safe for 2 years after payment and only clawed back on a rolling basis you could start slowly and build up your programme over the next two years without losing any of your levy pot payments.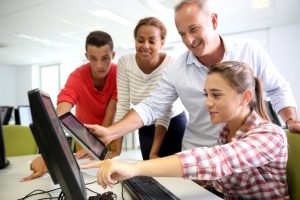 As educational institutions another obvious way to take advantage of apprenticeships is to become a registered training provider, offering training to your own staff but income generating by opening the programme to other institutions and organisations as well. This sounds easy, which we know it isn't, but again starting slowly and building a portfolio could create an income generating stream for the future.
So my advice is give apprenticeships a go and don't just throw your money away!
Julie Gray
Learning and Development Consultant
julie.gray@fsmail.net
Contributor's corner welcomes articles from Learning and Development specialists working to support the Higher Education sector. With this section, the Staff Development Forum (SDF) would like to foster exchange of ideas and good practice amongst professionals. Please note that the Staff Development Forum (SDF) doesn't endorse services nor views.