Lucy's coaching journey of Joy, Presence and Open-mindedness
I met Lucy Owens in the Staff Development Forum Conference in November last year, in Sheffield. Lucy delivered a workshop entitled "Navigating your HE career", in which she enlightened and supported the audience by sharing with us Schein's career anchors to reflect on the professional paths we have followed.
Lucy did strike me as a very personable person, whose work is genuine and accessible. She has followed an interesting trajectory pursuing her call in life and embodying a positive and nurturing coaching practice with the continuous application of coaching principles such as listening, being sensitive to others and their circumstances.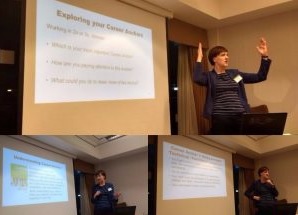 The purpose of this question is to unveil what really matters and how you view the world, what are your three rules?                                 
I haven't had the opportunity to think about this. I would say: Do what you enjoy doing. Be present in what you are doing. Be open-minded in all the encounters that you may have with others.
We sometimes admired in others what we like in ourselves. Equally, we sometimes dislike in others what we don't like in ourselves. Who is your hero?
I started working with her recently. She is a drama therapist. She is raising a young family. In her work, she helps young people to manage emotional well-being. She works with women who have suffered domestic abuse, or have been in prison. Her audience is a challenging one:  women who had a tough upbringing.
She brings her energy, care and drama techniques into her coaching. What impacted on me was her energy, warmth and humour. I feel I have those attributes myself and appreciate seeing those in other people too. This person is practical and thoughtful when she is helping those who are in tougher circumstances than she is.
You mentioned in the SDF conference that you have changed your occupation a couple of times. Why coaching?
I came into coaching, after pursuing studies in person centred counselling. Before that, I had moved from journalism. Coaching really attracted me because of the principles of not judging people, being positive, showing respect.  Personally, I wasn't cut out to be a therapist or a counsellor. They helped people who are in really unhappy circumstances. I like to be a trainer and an internal coach.
As a coach, what is your mission?
The mission of my coaching practice is to help people thrive in their working lives. I have an altruistic mission. I focus in making the most of people's career. I want to feel I contributed to that. I am happy and evangelical in that sense.
Let's talk about you and your coaching, how would you describe your coaching approach?
I offer individual coaching. My approach consists of providing the space and opportunity of together creating energy, to look at where the coachees are. We work on how they want to move forward with their working lives. My coaching style is a mixture of being challenging and supportive. My style includes being tough on people, for example when clients need help with performing effectively on job interviews. I offer a number of tools. My approach covers thinking through different areas, values, interests and passions.
Let's explore this further. Your website outlines that your coaching is intimidating and thought provoking. Where does this combination come from?
An example is that when a coachee has shared with me that they feel bored. Without being rude, I have played devil's advocate. I asked why that may be. Another example is that it may be that at a precise point in the conversation I may sense that what the coachee says it is not important to them. Again without being brusque, I will actually tell them that what they say does not seem important to them.
What is the value of this approach?
We will continue working together to identify a much richer vein of work by picking up –their emotions, their energy, and by being aware of my internal response. Sometimes coaches, by being in the moment, may feel  that what the coachee says doesn't feel comfortable with them.
What advice would you give to other women who are navigating their careers in Higher Education?
Hold on what is important to you as an individual. Do what gives you pleasure, what creates energy and what augments being positive. Do your utmost to do that, as much as you can. Remember the career anchors. If you discover that your career anchor is, for example, to make a difference, then pursue that! This creates for you a positive way of living a full life.
Coaching journeys is a series of interviews based on conversations with professional coaches working within the Higher Education sector. The aim is to explore what their values, practices and approaches are. By doing so, coaches have the opportunity to share their personal and professional stories and communicate the essence of their practice.  The Staff Development Forum (SDF) doesn't endorse services nor views.
Rossana
Dr. Rossana Espinoza
SDF Communications officer
comms@sdf.ac.uk
@DrRossEspinoza