A window to appreciate the other: An apprentice's perspective
When I asked Jasmin, if I could interview her for the Staff Development Forum, her first response was "My life is not interesting!" That touched me because when we are open, we learn from everything that we bump into or is thrown at us. Moreover, it matters that we are aware of the implications of what the Government is working to achieve with this new legislation on apprenticeships. There are plenty of resources on apprenticeships, so the purpose of this article is to open a window and learn from a person who is engaged in this governmental initiative from a different perspective. Briefly, the Government explains that an apprentice must:
work with experienced staff
learn job-specific skills
study for a work-based qualification during their working week
Now, let's meet the apprentice. Jasmin has been working as an apprentice for the department of Leadership and organisational development at University of Westminster for a year. Her rules of life are simple: everything happens for a reason, persevere if you encounter a rough patch and stay motivated because giving up may be easier, but doesn't take anywhere! Her hero is her mother. This might sound as a cliché but it goes much deeper. Jasmin's rules come from her heart and her inspiring role model inhabits that place.
I don't have a dad, so my mum played both roles. She raised three children. Although, she had bad times I saw her going through them and things got better. I ask her for help and advice. I don't have a celebrity hero, however, I find interesting that some celebrities like Lord Sugar come from a disadvantaged background and didn't go to university, but still they come out on top.
Why did you become an apprentice?
When I finished my A levels, I didn't know what I wanted to study at university. I am more of a practical and hands on person, I don't like lectures. I would rather work extra time than study. I didn't want to spend three years studying something I didn't have my heart in it, and in the end coming out in debt.
This is no surprise; apprenticeships give young people an opportunity to gain experience in the real working world, as Jasmin puts it, and the chance to pursue a degree, if they wish, later. This opportunity comes with the life saver, for apprentices, of not incurring into debt whilst they are learning valuable skills that are normally acquired in the workplace. Moreover, apprentices are also getting commercial experience and this is invaluable.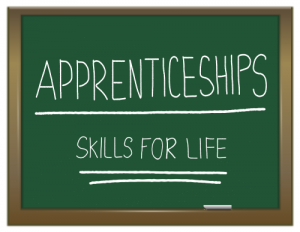 What skills are you gaining?
Jasmin goes through a list of basic and transferable skills, as she describes them, which are not learned at schools. For example, time management, prioritising, multitasking, speaking and networking skills. She has plenty of opportunities to network with colleagues in her and other departments. Personally, the way Education normally works, we are usually confined into silos, according to our age and perhaps we would not normally speak with those who aren't our friends or classmates. Therefore, the exposure Jasmin is gaining is greater than when an individual dedicates only to study.
What has been the value of apprenticeships for you?
With an apprenticeship, you are in the working world. I have noticed that when others completed a university degree, they hadn't experienced this, unless their course had an internship. After completing a university degree, it could be scary to start a job without the basic and transferable skills. With the apprenticeship, I experienced that the workplace eases you into that difficult phase.
As a researcher, I have interviewed first year students from a couple of universities and they all mentioned that there is a greater gap between school and university. Some students have had a difficult time whilst they were studying their first year away from their parents and all they knew. Similarly, young people may find it difficult to transition into their first jobs, especially without transferable skills and support. I do personally see an advantage in pursuing an apprenticeship to gain those skills that may help a young individual into their life transitions.
Something else that has helped Jasmin and helps many others during their apprenticeships is that they don't have to face high expectations from colleagues. As Jasmin puts it, when a person has done a university degree, there might be an expectation that they will know what to do in their roles. However, as an apprentice, colleagues don't have those expectations and instead they provide help, guidance and a lot of support.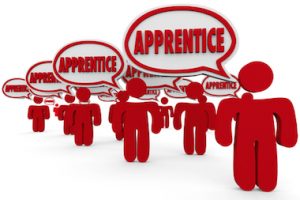 What support have you experienced?
I had a learning adviser and my manager. This has been very helpful. I know who to speak to. I feel I am not judged, because they help you through the issues. There is an apprenticeship Manager who implemented this. There is an apprentices' network, which organises meetings. We also learn new skills. We had a talk on library search. There is also a managers' network – for those who manage apprentices. I had an apprentice buddy. I used to sit next to her. She helped me a lot. I asked questions which may not have been relevant for my manager.
This may sound comprehensive and perhaps requiring a great deal of resources to implement. However, it does provide examples of what is helpful when implementing apprenticeships responsibly. Also, what I find fascinating is that many of the initiatives that Jasmin outlined are considered good practice when dealing with the induction of new hires at companies and improving management practices. These practices do help an individual in their transition into the real working world. Such practices also support a manager who is taking up the new role of managing an apprentice.
What would make apprenticeship better?
This is a difficult question, so Jasmin takes her time to answer. Then she talks about better communications between the apprenticeship provider and the company taking on apprentices. This is particularly important because the liaison between those two parties have a great effect on the lives of apprentices. Jasmin also talks about the negative stigma surrounding apprenticeships. Some may not consider apprenticeships as strong or valuable as university degrees. Moreover, apprentices could also suffer from being looked down and considered "just a trainee". This is a problem, which may not have an immediate answer. "How would you fix that?" Jasmin asks.
Later, Jasmin expands on her own experience of becoming an apprentice and her journey from school into being an apprentice.
It is good that the government is expanding apprenticeships. Workshops to understand apprenticeships may be helpful. In Sixth form, they don't talk about this option, so it would be good to raise awareness around them. Apprenticeship is new, up and coming. Apprenticeship advisers could visit schools to disseminate. I did all the research by myself. I know that some schools have done more for it. However, in my school, I didn't see a person who said I have done an apprenticeship and this is what it is about.
What do you have to say about the issues around gender?
If you are going for an apprentice role, I would advise going for it. Apply and be confident. If you are going for another more senior role, apply and be confident! Taking part in the leadership & management forum at work, I witnessed that there are discussions about directors mainly been male. A difference is that there may be more males who have the confidence to go for it. Apparently, there are not many female managers applying for those positions. So, don't let gender affect your actions on applying for those jobs.
I left the interview feeling I would have liked to have a friend like Jasmin when I was completing Secondary school, because I wasn't sure about what I wanted to do with my life either. Some people have it very clear, but most of us do not. Apprenticeships represent an opportunity to gain valuable lifelong learning skills that could take a person very far. Thanks to her apprenticeship Jasmin has grown into a role and learned from experienced staff in her team. Apprenticeship has opened up possibilities for her. Let's support more young people getting into this route and acquire valuable skills and experience.
Rossana
Dr. Rossana Espinoza
SDF Communications officer
@DrRossEspinoza